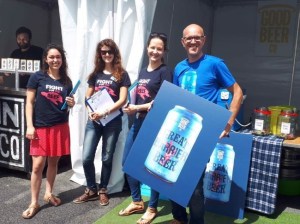 The Good Beer Co. launched its Great Barrier Beer 2.0 in cans at an event held at Ballistic Alehouse West End in Brisbane on Wednesday 10 October.
The beer is a follow-up to the Great Barrier Beer that was launched in 2015 and aims to continue the original's support for the Great Barrier Reef, with 10 per cent of every carton and keg going directly to the Australian Marine Conservation Society and its 'Fight for Our Reef' campaign.
The beer, a 4.5% ABV Australian lager, has been brewed at Ballistic Beer Co using Australian only ingredients – Galaxy hops and Queensland malt. Available in cans and kegs, it was given a positive review by festival goers at Beer InCider last month, with customers helping to raise another $1,000 for the Australian Marine Conservation Society.
"It a nice refreshing lager that people can enjoy on the reef," says James Grugeon, founder of The Good Beer Co. "The idea is to roll it out through Queensland, helping the people who got us off the ground.
"The cans are part of our efforts to go carbon neutral. We want Great Barrier Beer to be our first carbon neutral beer. We work with other brewers. The model is Two Fingers [UK] and Finnegans [USA]. We have contract brewers that brew for us to our brand and recipe and label and we sell the beer. We will be working with those brewers to make sure that they're doing everything they need to do so we can get that carbon neutral status.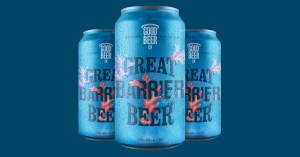 The beer's new branding, which features a water colour painting using water from the Great Barrier Reef, has been created for The Good Beer Co by Brother & Co in Brisbane, who worked pro bono in support of social enterprise and the cause.
The Good Beer Co was founded in November 2015 by Grugeon was looking to bring a "social enterprise approach to beer in Australia".
"The first thing for us is the beer is good," he explains. "The second things is want them to be as environmentally friendly as possible. The third is doing good."
The Good Beer Co is also about to launch a pale ale in partnership with the RSPCA called Pale Tail.
"That's coming very soon," says Grugeon. "That will be raising funds for the RSPCA in Queensland."
The brewery is also rebranding its cider, originally launched to support the marrigae equality vote. The beer will be called Love Squared will support the LGBTQ+ community.