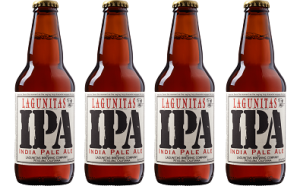 From The Shout NZ
Kiwi fans of Lagunitas Brewing Company, the American brewery with a 25-year history of making danky, funky and creative craft brews, will now be able to pick up a 6-pack of America's leading IPA.
Until now, Lagunitas IPA has been pouring on tap in select locations around New Zealand, but the craft icon will now be cold-shipping 12oz bottles that local beer aficionados can place in their shopping baskets.
Sean O'Donnell, marketing director at DB Breweries, says the news will be a big deal for a lot of Kiwi craft fans.
"Since first bringing Lagunitas to New Zealand a year ago on tap, we quickly realised how aligned some of our Kiwi tastes in beer are to the American favourites," he says.
"Lagunitas flagship IPA is a well-rounded, highly drinkable beer with Caramel Malt barley providing a richness that mellows out the twang of the Cascade and Centennial hops. There's a reason that it is America's leading IPA, it's really good!"
Additionally, Lagunitas Little Sumpin' Sumpin' Ale will now be pouring on tap, available year round at selected outlets in New Zealand. This special ale is brewed with a lot of wheat, it's rich with hops and it finishes dry for a complex but refreshing beer.