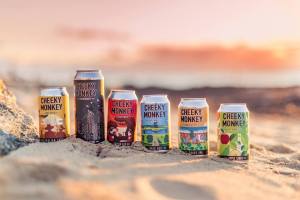 Cheeky Monkey Brewery is building a new production brewery in Vasse, WA. 
Cheeky Monkey was established as a brewpub in Margaret River around six years ago. Their beers were only available at the brewpub. However, 18 months ago, the brewery purchased a canning line and began distributing to the market.
"Up to that point we didn't realise the acceptance the market had for our brand," says Brent Burton, managing director of Cheeky Monkey. "At that point we were serving a few independent bottle shops in Perth. Since there, we've seen terrific growth."
The brewpub, which can brew 2,000 litres a day, reached capacity last year and had nowhere to grow. It already shares its space with a restaurant, kitchen, winery and storeroom.
"We decided to take a leap of faith and construct a production brewery, which has enabled us to produce our beer for across the country and overseas," says Burton. "We looked at Perth at first, but after doing a few calculations, we worked out it would be better doing it down the road."
Cheeky Monkey purchased a block of land in Vasse, near Busselton. Construction started a few weeks ago. The new facility will house a 4 vessel Premier Stainless 25 hectolitre brewhouse capable of producing 10,000 litres per day.
Cheeky Monkey is aiming to brew 1 million litres per annum of its proprietary brand, however, the facility is capable of brewing nearly 4 million litres per year which allows ongoing growth opportunities and will be open to contract brewing and packaging.
The site will house a fully automated bottling and canning line, as well as an in-house laboratory to package all products to the highest level.
"It's been 12 months in planning and it's all coming to a head now," says Burton.
Cheeky Monkey will continue to brew at its brewpub, but these will be experimental seasonal releases only available at the brewery.
"And then gauging which of those beers performs the best, we'll move them to the production brewery where we'll be able to produce, package and distribute them quite easily," says Burton. "We plan on having a little bar at the production brewery, quite an industrial feel, with pizzas and burgers. It will be open Friday, Saturday and Sunday. The brewpub is open 10am to 6pm every day of the week."
The production brewery will be making a lager, a pale ale, a session ale and a west coast IPA, with a summer ale in the works for the future. Cheeky Monkey will also produce its apple cider – made using local fruits from Pemberton – at the new brewery.
"It's going to be a great thing for the region," adds Burton. "We're looking at hiring half a dozen staff over the few weeks – two or three new brewers, administration staff, packaging staff and a marketing and events manager."
The new brewery will be open mid-January 2019.