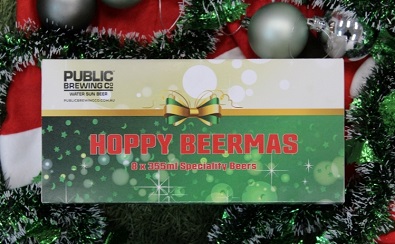 Public Brewing Co. are getting in the festive spirit with their 'Hoppy Beermas' mixed Christmas box, featuring eight specialty beers from their merry seasonal summer range of brews, ideal for gifting to any drink connoisseur who knows there is no Christmas cheer without beer.
Launching in 2013 as a passion project from The Public Brewery Group, the brand continues to grow and expand with the launch of seasonal beers all year round. Combining a super-secret recipe of water, malt, and hops, and light-hearted banter, the Public Brewing Co. is a serious labour of love. With a community-first approach, their beer is designed to be enjoyed by one and all – grab a mate, grab a cold one and quench your off-duty thirst.
This Christmas themed box will include a number of limited edition seasonal Public Brewing Co. beers including Rum-pa-pum-pum; a coconut and rum infused Brown Ale, the Grapefruit IPA; a classic West Coast IPA with a huge hit of fresh and tart grapefruit flavours complementing the citrus-y characteristics of the hops, Simcoe New England Pale Ale; Triple Dry hopped with 100% Simcoe Hops, and bursting with fruity, piney, floral goodness, and the Watermelon Sour; a light and sour beer, with the addition of fresh watermelon juice added into the fermenter and brewed to enjoy with friends on a warm, sunny afternoon
Retailing for just $39 for a box of eight cans, the Hoppy Beermas Box is available online at publicbrewingco.com.au and thepublicbrewery.com.au at The Public Brewery Bottleshop in Croydon, Victoria.
Company Contact Details
This is a sponsored content piece. To find out more talk to the Beer & Brewer sales manager.