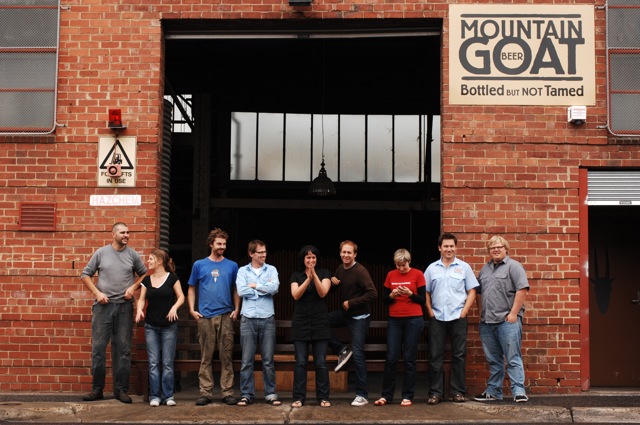 Mountain Goat, that iconic Australian craft beer brand, is celebrating 15 years of success with an intrepid journey around Australia.
Encompassing (almost) every state and territory in the country, the tour will feature a special anniversary brew dreamed up by founders of Mountain Goat: Cam Hines and Dave Bonighton. This Triple Hightail, as it is known, is a stronger, bolder version of the Hightail Ale, the first beer the boys created and released back in 1997.
With only 200 cases to be created, ever, it will only be those fans who make the effort of attending the celebrations that will be blessed with getting a taste of this special birthday beer.
Kicking off at home in Victoria the tour will wend its way around the country, landing at these venues:
Victoria: Wednesday 10 October at the Great Britain Hotel, Richmond – 5.30pm
New South Wales: Thursday, 11 October at the Union Hotel, Newtown – 6pm start
Queensland: Friday 12 October at the Bitter Suite, New Farm – 6pm start
Tasmania: Tuesday 16 October at the New Sydney Hotel, Hobart – 6pm start
Victoria: Wednesday 17 October at the Pinnacle, North Fitzroy – 6pm start
South Australia: Thursday 18 October at the Wheatsheaf Hotel, Thebarton – 6pm start
Western Australian: Friday 19 October at Clancy's Fish Pub, Fremantle – 6pm start
Northern Territory: Saturday 20 October Goat Island Lodge, NT – 5pm start
(Cost: All events are FREE except the Tasmanian event)
Speaking about their, at times turbulent, history Cam Hines is positive about the future of craft beer in Australia. "It's been a fun 15 years," he says. "The early days were very tricky when we were repeatedly told our beers had too much flavour.We're now seeing beginnings of a craft beer revolution in Australia so we're very happy we persisted."
Join Cam, Dave and the rest of the 'Goat Army' for the birthday celebrations and to let the boys buy you a beer.
For further information and to join the Goat Army head to http://www.goatbeer.com.au/