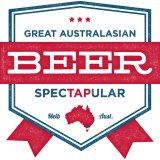 As well as seeing international brewers taking up the challenge to brew the strange and the kooky, this year's Great Australasian Beer SpecTAPular will see a range of collaborations between Australian and international craft brewers.
Of the expected (approximately) 100 brews that will be on offer, a few will see the combined creative might of some well-know – and not so well-know – brewing fanatics.
Victorian micro Moon Dog Brewing has hooked up with Norwegian brewing powerhouse, Nogne Ø founder and head brewerKjetil Jikiun, to create what Moon Dog founder JoshUljans describes as a sour cherry wine that will be fermented then moved into French oak barrels before being incorporated into a Dark Wheat Ale – a technique that neither brewery has experimented with before.
Jikiun, well-known for his experimental style says that he is excited about the challenge of the brew as well as the collaboration.
"I love global interactions and this is one more step in bringing brewers together worldwide," he says. "Our brew will be quite innovative both with regards to ingredients and techniques."
According to Uljans, the process will use a few hundred kilograms of cherries with the resulting brew quite high in alcohol content – potentiall 9.0-10.0% ABV.
"Quite often brewers can be a bit constrained in terms of the beers they can produce," he says. "This is a wonderful opportunity to throw that aside and do what they want and experiment and push the boundaries of what people perceive beer to be."
Last year's People's Choice Award winners, Kiwi brewers the Yeastie Boys, have two brews in this year, one of which is a collaborative Barleywine-style Ale called 'Papsø Under the Southern Cross' that will use Southern Hemisphere ingredients.This brew will also be also released in Denmark at the same time – and called 'Papsø Under the Northern Cross' – after being made using Northern Hemisphere ingredients.
As previously confirmed, Feral Brewing's Brendan Varis and Richard Watkins of Wig and Pen are creating a new style of beer – a 'Free Range Ale' called Pig Pen – which will debut the night before GABS begins at the AIBA dinner.
Meanwhile, the long-time dream of passionate Sydney-based homebrewer Michael Wallace, the current Australian Amateur Brewing Champion – as featured in the current issue of Beer & Brewer – is about to come true with Young Henry's head brewer Richard Adamson commercially brewing Wallace's Black German Ale – a style not commercially available here – for the festival.
Similarly, Victoria's home-brewing champion, Dereck Hales, will see his signature brew- an American Pale Ale – commercially brewed at of one of the smallest breweries – Red Duck Brewery in Ballarat.
It is a great opportunity for the homebrewers with Red Duck Brewer Scott Wilson-Browne saying that it is likely the brews will end up having a life of their own outside the festival.
"By releasing [the APA] at GABS it provides an unprecedented audience," he says. "This means that we'll be able to keg the brew, and after GABS it'll likely appear at specialist bars – giving it a much longer life span than if it wasn't featured to thousands of craft beer enthusiasts."
GABS runs from 24 – 26 May at the Royal Exhibition Building in Carlton.
Some of the other unique brews to be released at the Great Australasian Beer SpecTAPular 2013are:
Honey IPA made with Beechworth Honey and locally grown hops
By: Bridge Road Brewers – VIC
Called: Hop to it Honey
Oak Aged American Stout with orange zest and espresso
By: Thirsty Crow & William Bull Brewery – NSW
Called: Charlie's Pitbull
A robust Brown Ale as a base, with an extra hit of chocolate from Cacao nibs supplied by Margaret River based chocolate maker Bahen& Co with the use of a German wheat yeast to create the chocolate-banana lolly like flavour
By: The Monk Brewery & Kitchen + Eagle Bay Brewing Co – WA
Called: Cacao Cabana
Belgian Dubbel infused with cold pressed Columbian coffee beans
By: Van Dieman Brewing- TAS
Called: Dubbel Shot
Chocolate and Golden Naked Oat Breakfast Pilsner
By: The Australian Brewery – NSW
Called: Frühstückrurdem Kaiser (Breakfast for the Kaiser)
Trusty Pale Ale derived from additions of fresh Japanese daidai fruit and accentuated by hopping with four citrus-laden hop varieties.
By: Baird Brewing Company – Japan
Called: Daidai Pale Ale
A light and refreshing Summer Saison gently infused with Chinese Jasmine Green Tea, Lemongrass and Japanese Sorachi Ace Hops for a zesty and crisp citrus finish.
By: Wayward Brewing Company – NSW
Called: Saizen
Spicy Czech Pilsner infused with raspberries, chocolate & vanilla.
By: Bacchus Brewing Co – QLD
Called: Bacchus White Chocolate Raspberry Pils
IPA made with peaches
By: Golden Bear Brewing – NZ
Called: I Peach A
German malt, US hops, New Zealand beetroot and a Saison yeast.
By: Yeastie Boys – NZ
Called: Golden Age of Bloodshed