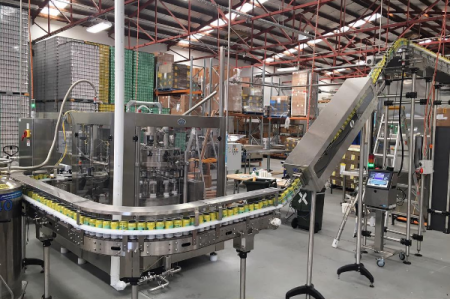 Brewmanity Beer Co is making its first foray into the retail market with its Social Beast Pale Ale coming off the canning line as we speak.
The 375ml Social Beast cans will be available through independent bottle shops in Victoria as of this week with a wider distribution expected in time.
Director David Neitz told Beer & Brewer that this is an exciting time for Brewmanity as they look to get distrbution of their Social Beast as far and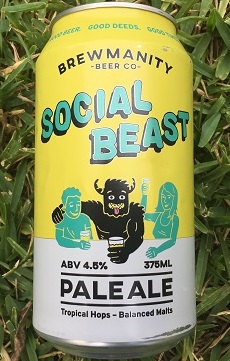 wide as possible.
"It's just about putting the beer in the cans and getting it out there into peoples' hands. That's been taking up a bit of time at the moment but it's been a great experience.
"It's an interesting time for us. We've spent the last year being in and out of rotation in pubs around Melbourne, which has been good, but we're just now in the process of putting some cans together. The brew is brewing and the cans are being made right now and will be in package around the middle of April, which will be fantastic," said Neitz.
The Social Beast is 4.5 per cent ABV and displays pineapple and passionfruit flavours. It is hopped up with a hit of Ella at the beginning of the boil, but it's the late introduction of Vic Secret that really amplifies the flavour. The hop bitterness is balanced with a malt profile that is evident, but not dominant to make the beer approachable and sessionable.
"We're looking forward to getting it out there," Neitz told Beer & Brewer.
"We'll be starting in Victoria but really looking to get it out there as far and wide as we can."
Brewmanity launched in September 2015, when a bunch of beer loving boys stopped to imagine what would happen if every beer they drank contributed to doing something good in the world, and since then it has raised more than $100,000 for the MND Foundation and donated over 50,000 days of clean drinking water for communities with no access to it.
Neitz continued: "The whole thing is that our mantra is 'Good beer, good deeds, good times', and that's what we want this to be about."
In other news, Cricketer's Arms has added the Session Ale to its line-up, a 3.5 per cent ABV ale that the company says is aimed at consumers looking for a mid-strength craft beer that doesn't compromise on taste.
And Victorian's will soon be able to raise a can of the Furphy Refreshing Ale, a beer brewed in Geelong and crafted specifically for the people of Victoria.