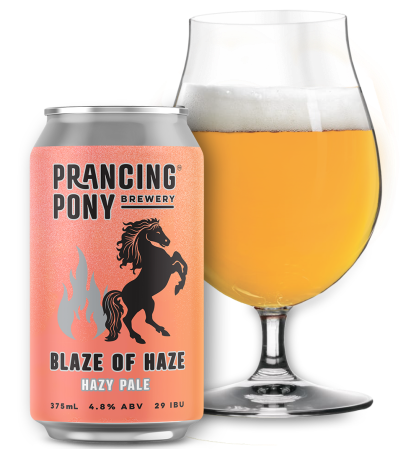 Prancing Pony have made the leap to add a hazy pale ale to their core range and we're giving you the chance to be among the first to try the new Blaze of Haze while getting 15% off in the process.
The 4.8% Blaze of Haze is out now and you can use our exclusive Beer & Brewer discount code on the Prancing Pony website to get 15% off the carton price until Friday 8th July.
Simply head here and use the unique discount code beerandbrewer at the checkout.
Designed to be an approachable hazy with a lower ABV, Prancing Pony say their new core range member is "an easy-going, refreshing hazy pale that can be enjoyed all year round".
"As we know, hazy pales are known for a creamy mouthfeel, which is why we have opted for the use of both rolled and golden oats," senior brewer Eden Pink said.
"We have also used (the advanced hop product) Lupomax which is now trending and produces beautiful hop flavour and aroma, without the harshness of overusing other hops."
Blaze of Haze tasting notes:
ABV 4.8% | IBU 29
AROMA: Moderate to high hop aroma. Sweet fruits, predominately strawberries, followed by gooseberry and blackberry, with a very slight note of citrus.
FLAVOUR: Hop flavour, sweet ripe berries, and a hint of toasty oat from the malt.
MOUTHFEEL: Creamy mouthfeel and smooth bitterness.
Blaze of Haze is available on the Prancing Pony website, at their Brewshed venue in Totness, South Australia and at selected bottle shops nationally.