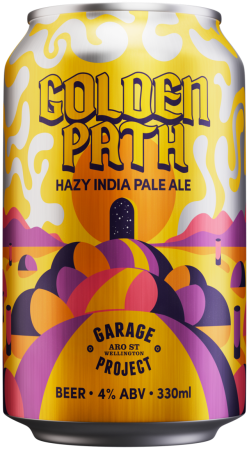 The session beer's path of evolution continues to head down a hazy golden road as the popularity of the IPA steers its course.
In another signpost of the evolution, following on from the likes of Bodriggy's Speccy Juice and Balter's Bunker Buster, New Zealand's Garage Project have re-released a session strength hazy IPA and have made it a permanent fixture of their core range.
Golden Path (4.0%) was originally brewed for Burger Wellington in September 2019. It's out now in New Zealand and will be available in Australia from November 1.
We chatted with co-founder Pete Gillespie about the reasons behind the release and how you can still achieve aromatics, body and mouthfeel whilst belying the ABV.
Why the decision to not only bring Golden Path back, but to make it a permanent fixture?
Golden Path was a massive hit with everyone at the brewery on its first outing. Big hazy hop bombs are great, but with many running between 7% and 10% they're not exactly the most sessionable brews (without consequences). People really liked the soft juicy aromatic qualities of the hazy style, married with what could be described as a more 'sensible' ABV. We love it.
With hazy IPAs so popular right now, is the Golden Path's ilk the future for the session beer category?
I think a high aromatic juicy brew at a lower ABV is a winning combo as it's supremely drinkable. I began my brewing career in the UK and something I loved was the way traditional real ales lent themselves to long sociable drinking sessions. There is absolutely a time and place for the big guns – for Turbo Fuzz and Fresh – but Golden Path offers soft, juicy fruit hops in a format that lets you enjoy a few more pints, without getting in too much trouble. Perfect for anyone that likes drinking beer.
From a brewing perspective, what are you trying to achieve with Golden Path, what are the challenges faced by that and how are they overcome?
Above all, Golden Path is about drinkability. It's all about body, flavour and aroma – without the booze. We keep bitterness to a minimum, with almost no hops going into the hot side, then a hefty dry hop at the tail end of ferment. Despite what some people say, dry hopping delivers plenty of perceived bitterness, definitely enough to balance a lower ABV beer like this. Without the alcohol of bigger hazies, Golden Path relies on the make up of its grist and unfermentable sugars to give it body and mouthfeel and balance that dry hop. We use lots of oats and English Maris Otter to build this base and then mash at a higher temperature to lock in even more unfermentables. Obviously, the choice of yeast is crucial and we use an English style strain, delivered fresh from our local yeast bank, Froth.
What are the similarities between how you brew a higher ABV hazy IPA and how you brew Golden Path, and what sets the brewing techniques of the two apart?
Ingredients, yeast and dry hopping regimes are almost identical, we just tweak down the grist volume and dial up the mash temperature. We've also found it pays to spend a little more attention, and cash, on the malts for this brew.
For those that didn't try the 2019 release, what can they expect in terms of overall aromas, taste and drinkability from it now?
Nice soft mouthfeel, without any cloying sweetness. Loads of tropical fruit, passion fruit, pineapple and mango hop flavour and aroma and just enough bitterness to bring balance. All this in a nice little 4% package.
Meanwhile, Garage Project has announced the launch of a new beer – Talk to the Hand 2020 – to promote New Zealand Sign Language Week which runs from the 21st to the 27th of September. You can read about it here on our stable-mate's site – The Shout New Zealand.
Contact Beer & Brewer by clicking here to share your news and views.