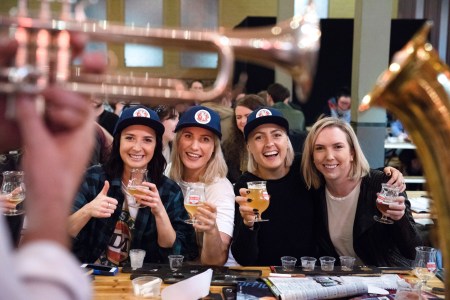 The public's anticipation for the return of Australia's biggest beer festival appears to be at fever pitch as tickets to the Great Australasian Beer Spectapular are selling fast.
The initial allocation of season tickets, that allow entry to all sessions at the Sydney and Melbourne festivals, sold out within the first few hours of them becoming available. The organisers have now released a further limited amount of the season tickets on the festival's website to service demand.
This year, GABS starts in Sydney at the Sydney Showground on Friday 7th and Saturday 8th May. It then moves onto Melbourne and the Melbourne Exhibition & Convention Centre for Friday 21st to Sunday 23rd of May. This is a new location for GABS as the traditional venue – the Royal Exhibition Hall – is being used as a COVID vaccination centre. The final stop for the GABS train will be in Brisbane at the Brisbane Convention & Exhibition Centre (BCEC) on the 12th June.
"The excitement is palpable," GABS organiser Mike Bray said. "We have already received lots of messages about how excited people are about getting back to GABS – both the visitors and the brewers. People can't wait to get back together and celebrate their love for great Aussie craft beers.
"At the heart of the event are the 120 Festival Beers & Ciders made especially for GABS each year by Australia and New Zealand's leading brewers and cider makers. Many of these brews go on to be legends in the brewing world, for example Feral's Biggie Juice, Two Birds Taco beer and Yeastie Boys Gunnamatta, which were launched as GABS festival beers, but are now staples in the craft brewing industry. We will be celebrating these legends at the 10th Edition as well as the new festival beers."
EVENT DATES
SYDNEY
Sydney Showground, Olympic Park
Friday 7th-8th May
MELBOURNE
Melbourne Exhibition and Convention Centre
Fri 21st- Sunday 23rd May
BRISBANE
Brisbane Convention & Exhibition Centre, South Bank
Saturday 12th June