At GABS 2017 Beer & Brewer noticed an influx of beers influenced by Asian flavours, so in the Winter Issue our Homebrew Editor Chris Thomas spoke to two of the brewers with Asian inspired GABS beers and even got their recipes too! Here's an excerpt from that feature…
Good Beer Week (GBW) is full of outstanding beer and food matching events and degustation dinners, but the crowning event is renowned for ambitious festival beers inspired by food.
In past years at GABS, many of these beers have carried a sweet theme with plenty of dessert or chocolate bar themed beers. The two most recognisable and readily available of these thus far have been Big Shed's Golden Stout Time and La Sirene's Belgian Praline. La Sirene's Belgian Praline has graced our shelves pretty much since its debut at GABS in 2014, while Big Shed's Golden Stout Time followed suit in 2015.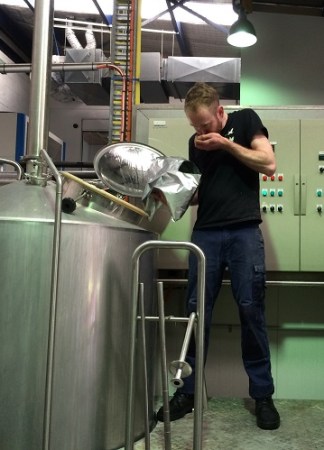 But GABS is about more than just making your beer taste like your favourite sweet treats. Many of the beers are inspired by different cultures and food styles from around the world. Two Birds Taco Beer started its life as a Festival Beer and is now a staple in their range and one of their biggest selling beers. Recently the Taco Beer has found its way into cans and is selling like hot cakes – now there's an idea for next year… hot cakes with bacon and maple syrup.
This year at GABS there has been a number of brewers who have been inspired by the flavours of Asia.
Really, it shouldn't come as a surprise that Asian flavours are making their way into beers. After all, the flavours associated with Asian cooking are usually clean and crisp like many beers on the market.
Subtle use of fresh Asian herbs, fruits and vegetables like chilli, coriander, ginger, kaffir lime and lemongrass add freshness and complexity to beers with a lighter base, especially lagers, pilsners and even saisons.
Q&A with the Brewers – 3 Ravens and Morrison's Brewery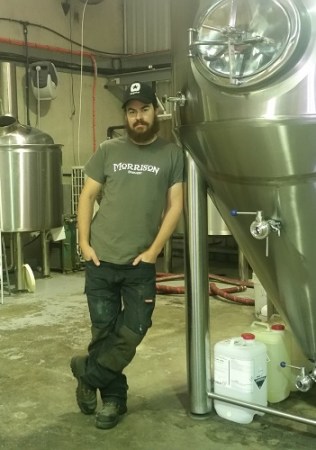 Brendan O'Sullivan, Head Brewer at 3 Ravens (Vic) has designed a unique take on Asian Flavours with the Little Ravens Mango Lassi IPA. It's described as a mildly acidic and fruit forward 'Milkshake IPA' inspired by the popular Indian yoghurt drink, Lassi.
Taking a completely different path is Paul Morrison, Head Brewer at Morrison Brewery in Tasmania. Morrison and his team have designed a Green Curry & Rice Saison brewed with coconut, galangal, kaffir lime, lemongrass, coriander and chilli. They even added rice to go with the green curry.
B&B: There's a fair contingent of Asian inspired beers at GABS this year – why do you think there is such an interest here?
Brendan: A healthy proportion of the Australian and New Zealand population are of Asian descent or migration and the food culture they have brought with them is ingrained in our cultural landscape. Our proximity to Southeast and Southern Asia also means that many Australians travel the region and fall in love with the food. It is common for brewers to look to food for inspiration – and clearly some of the Asian flavours have found their way into the hearts, minds and stomachs of this year's GABS brewers!
Paul: I think it's just a different direction to take things. IPA's have had their time, sour's are getting a good run at the moment but Asian food brings so many different elements, which can work so well in a beer when they are in the right balance.
B&B: How did your Asian inspired beer come about?
Brendan: I've had 'Mango Lassi Gose' on the to-do list for a few years, but in light of recent (and delicious) releases from Omnipollo (Bianca Mango Lassi Gose) and Hop Nation ('The Punch' Mango Gose) we decided to head in a different direction. I've been having a lot of fun kettle souring with household bacteria (like yoghurt) lately, and have also started to explore lactose a lot more. With the success of our New England style 'Juicy IPA' I thought it'd be fun to combine all the above into a sour Milkshake IPA.
Paul: Having a Thai Green Curry from a small local restaurant. The idea was tossed around in the brewery for a while and the more we thought about it, the more we thought it would work. We started with a simple but balanced Saison recipe and then layered the spices over that a little at a time until we got to where we wanted.
B&B: How would you describe the flavours, aromas and appearance?
Brendan: Complex, tropical fruit salad and breakfast juice aroma with hints of lemon zest, fresh ginger and a distinct milkiness. Bright fruit and lactic acid combine with dry-hop bitterness on the palate and balance the lush silkiness of the rolled oats and un-fermentable milk sugars. Fresh, fruity and incredibly unique.
Paul: I think the most important thing first up is that the base beer still comes through. No matter what you do to a beer or throw in it, it still has to resemble a beer. The coconut comes through well in aroma and mouthfeel, kaffir lime shines on the aroma as does a small amount of jasmine from the rice and esters from the Saison yeast. It really is just like a big spoonful of green curry and rice.
To read the full article and to see the recipes, subscribe to Beer & Brewer here.