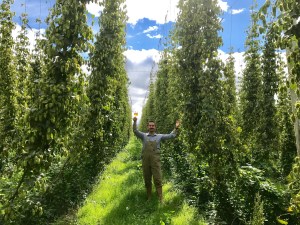 The first ever Fresh Harvest Beer Festival will take place on 21 April at The Cannery in Rosebery, NSW.
Using freshly harvested, 'wet' hops' from Tasmania, the event will celebrate local beer, as some of NSW's most popular breweries showcase their unique brews. These beers are on offer only once a year.
There will also be a search for a new beer brand in the Brewers Unearthed homebrewers competition and discovery program. The winner will receive a 12-month mentoring program to help launch their brand.
Food stalls, live music and an after party will also feature. Entry is free, with tokens available for purchase to taste and judge and the Brewers Unearthed competition. Visitors will also be able to try brewing their own fresh hop beer at a specialist workshop with VIVE Cooking School. They will be able to take their own bottle home after it's fermented for three weeks on-site.
"Fresh hops provide a very different taste to beer, and due to the tight timeline of moving from farm to glass, fresh-hop beers are rarely produced," explains Vincent de Soyres, brewer and co- founder of Frenchies Bistro and Brewery, which is hosting the festival. "During annual harvest, most hops are dried out in a process that extends their shelf-life but concentrates their bitterness. When undried hops are used within 24 hours of picking, they impart a fresher aroma that is more floral and oily in flavour and texture."
A raffle will also take place throughout the day to raise funds for community organisation the Pink Boots Society, which works to assist women advance their careers in the brewing industry.
To find out more visit the website.