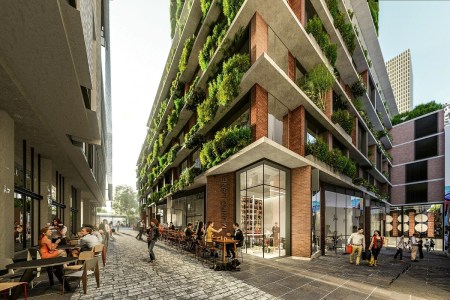 Brick Lane Brewing are to open a "comprehensive" hospitality offering at Melbourne's Queen Victoria Market (QVM) precinct early next year after securing a longterm lease of the former Mercat Cross Hotel building.
As part of the $450 million redevelopment of the QVM site, the new Brick Lane Market venue will inhabit the storied former hotel which boasts over 700 square metres of bar and restaurant space. Brick Lane said its plans for the venue, which will see it become the largest and most prominent tenancy in the QVM precinct, include a ground-floor bar and a restaurant on the upper level.
Founder and CEO Paul Bowker said the development of a significant hospitality experience in the heart of Melbourne is Brick Lane's "perfect platform to further celebrate Melbourne and Victoria's renowned food and beverage industry".
"We are grateful for the opportunity to work alongside Queen Victoria Market to deliver a world-class experience at one of Melbourne's most iconic sites," he said.
"The development of a permanent and comprehensive offering at Queen Victoria Market is a great fit for Brick Lane and QVM in so many ways. Queen Victoria Market has been part of the fabric of Melbourne for over 140 years and Brick Lane has been fortunate to call it our home since we produced our first beer. Indeed, the first batch of kegs that left our brewery in August 2018 went straight to the taps for the QVM Winter Night Market."
Brick Lane said work on the fit-out will commence following approvals and that the venue is expected to pour its first drinks in March 2023 with pop-up activations planned prior to Christmas.