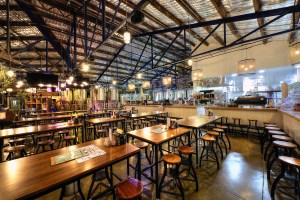 Newcastle brewpub Foghorn Brewhouse has agreed to co-invest with craft accelerator Founders First to take the business to the next stage of growth, while maintaining control of the brand.
Shawn Sherlock partnered with local businessman James Garvey to found Foghorn in 2014 and last year finished fifth in Beer & Brewer's Top 50 Brewpubs. In late 2018, the pair put the brewery up for sale, and while the building remains on the market, a new lease has been agreed, and Founders First has become a co-owner of the business with Sherlock.
Until this investment, Foghorn beers were largely only available at the brewhouse itself, but Sherlock, who was named Australian Brewer of the Year in 2012 while he was head brewer at Murray's Craft Brewing Co, sees potential to provide other local pubs and hotels with his beers.
"We have built a successful brewhouse focused on serving both locals and visitors to the Newcastle region and have been overwhelmed by the level of support we have received," says Sherlock. "We are forever being asked by our patrons where they can buy and drink our beers outside of the venue – so with our new partnership we will certainly seek to make our beers more widely available, initially throughout the Newcastle region, to continue to grow the Foghorn brand."
At first, Foghorn will only be providing its beer in kegs to venues in Newcastle and the surrounding Hunter area, with short-term investment focused on increasing sales. As well as the brewpub's core range, Foghorn will have the flexibility to provide more speciality brews should the demand arise.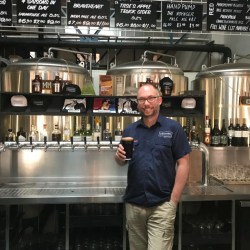 "We're looking at something similar to what Stomping Ground is doing in Melbourne," says Sherlock. "They take their great brewpub beers and share them with local venues in the area."
Beyond that initial stage, Sherlock will look at other other options, including packaged, although he would rather use mobile packaging instead of bringing a packaging line into the brewpub itself. Further down the line, he is even contemplating building a second brewery should demand require it.
"Our industry has matured. I think it's a good thing. Local beer is a good thing, especially with the style people like – pale ales and IPAs. The brewpub model is the best model for fresh beer.
"Newcastle, going back to my days with Murray's, was always a better market for us per capita than elsewhere. They have more developed craft beer culture and, dare I say it, craft beer palate. It can sustain multiple venues with large selections.
"Craft has penetrated into the suburbs and mainstream venues a little quicker than in other markets. Sydney has caught up in the last two years, but going back it was much easier to get a craft beer in a non speciality venue in Newcastle than in Sydney.
"As a proud Newcastle local, I'm so excited to be taking a home grown brand to the next stage of growth and sharing our great local Foghorn beers within the broader Newcastle and Hunter region. With the support of the Founders First team, we will continue to grow a beer business Newcastle can be proud of."
"We are ecstatic to have the opportunity to help support and back such a talented local brewer like Shawn," says Mark Haysman, chief executive of Founders First. "We will be focused on supporting Shawn and the team realise their dream to further reinforce Newcastle's position as a craft and hospitality epicentre whilst creating more local jobs in the process."