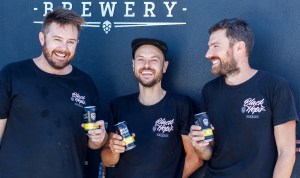 Black Hops Brewing has raised $400,000 from 544 investors through its equity crowdfunding campaign.
With some investors putting thousands of dollars and other "throwing in $50 to be part of it", the make-up of the investors is diverse. It took the brewery eight hours to raise its $150,000 minimum and two days to reach $300,000. They have now reached their maximum $400,000.
"It feels good," says Dan Norris, who co-founded Black Hops Brewing with Eddie Oldfield and Michael McGovern in 2014. "Normally things don't go exactly as you plan them, but in this case it did go pretty much exactly the way we hoped it would go.
"I think it's [crowdfunding] quite new here. I'd seen them in New Zealand and they went more the way ours went. You put them out, people get very excited about them. These guys were getting funded within a matter of days and people were missing out. That's how I thought it would go.
"It's not often that people get to invest in a good brand, particularly a local brewery that they love going to. I was happy for ours to go the way I thought equity crowdfunding campaigns should go."
Black Hops Brewing is 95% complete on the build of its second brewery, and the money raised will help get that build over the line. After that, Norris has to work out "how we're going to make and sell five times as much beer as we're currently selling".
Now the money has been raised, Black Hops is also planning on brewing a special beer for the biggest investors, and there are ideas around merchandise for other high investors, which the brewery is calling The Alpha Team.
"It would be cool to do something exclusive for them," says Norris. "I want to make sure that everyone who invested in us is very happy and they're part of it."