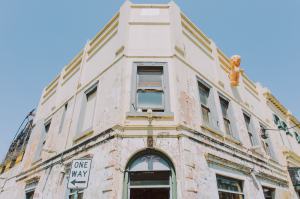 Brunswick Street bar Bimbo has reopened its doors after a facelift that has returned the Melbourne venue to its former glory after it was gutted by a devastating fire last year.
The venue is owned by Colonial Leisure Group – which also owns Colonial Brewing Co – and there will be a range of craft beers from the brewery and beyond on tap and in the fridge at the new venue.
"Bimbo has always been very popular – we spent months responding to messages bout the venue return, so we know Bimbo 2.0 had to be big," explains Lawrence Dowd, managing director of Colonial Leisure Group. "While they were unfortunate circumstance we found ourselves in last year, it meant we had the unique opportunity to undertake a complete venue refresh.
"We really wanted to invest heavily in bringing back the spirit of the Bimbo brand. Brunswick Street has always been one of the city's premier night strips, but in recent years there has been a number of closures, so we think this is the perfect opportunity to honour its history and bring the neighbourhood back to life."
As part of the refresh, Bimbo has adopted a local art-drive design approach, including a mural by Melbourne-based illustrator Filthy Ratbag (aka Celeste Mountjoy).
While the venue has undergone an evolution, Lawrence said the fundamentals of the bar will never change.
"Melburnians carry a real torch for Bimbo so the heart and soul of the venue will never change," he explains. "Hhowever, we definitely wanted a more mature vibe as we move into the next chapter. This started with dropping Deluxe from the name, while ongoing transformations will continue to see the venue evolve.
"Bimbo will always serve $4 pizzas, but we will have a new menu, as well as booth seating to give patrons a better dining experience."
Bimbo will also feature a permanent roster of events, including acoustic music on Tuesdays, trivia on Wednesdays and all northside talent on Friday nights.