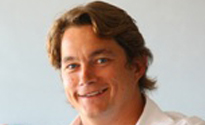 Sam Reid
Willie Smiths Organic Cider has teamed up with Lark Distillery to release a limited edition Australian-first cider, aged in whisky barrels.
The secret project is a riff on the barrel-aging trend that has recently exploded in the craft beer sector, with the cider being the first of its kind in Australia, according to Willie Smith's co-founder Sam Reid.
"The cider has been aged in Lark Distillery whisky barrels for seven months and was bottled three weeks ago," he says. "We're trying to expand people's horizons with cider and learn from the growth of craft beer who have offered loads of different styles and ways to enjoy it, which keeps the whole category interesting."
Only 888 bottles of the cider have been produced, with each bottle sporting a wooden label with laser cut branding. Just 150 bottles will go to select customers in Sydney, Melbourne and Brisbane, with the remaining stock to be sold from the Willie Smith's new cellar door in the Huon Valley, Tasmania. Additionally, the Local Taphouse in St Kilda – home of Willie Smiths first mainland tap point – will be given the only keg of the cider to be produced, available for celebratory tastings during Melbourne cup week.
According to Bill Lark, of Lark Distillery, collaboration between Tasmanian businesses is important to continue pushing the boundaries.
"This is another example of how Tasmania maintains a reputation for being at the forefront of premium products," he says.
Cider Makers Tasting Notes: Willie Smith's Lark Distillery barrel-aged cider, 9.9% alc, 750ml, RRP $60.
"Strong speyside whisky aroma's upfront, it has soft, delicate apple on the front palette with a hint of sweetness coming from the beautiful blend between the apple and whisky. Through the mid palate the oak starts to make an appearance and continues to build towards the back palate with a dry oaky tannin structure to finish off. Despite its relatively high alcohol it remains balanced throughout and is never overpowering the drink."