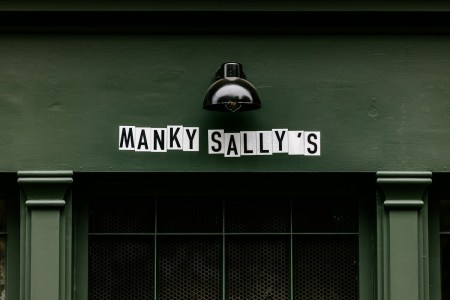 Moo Brew's Hobart brewpub Manky Sally's is opening its doors this Saturday (May 6).
Announced in July last year, the new bar and nano-brewery is located on the Salamanca strip near the Mona Roma ferry terminal and marks Moo's first hospitality venture away from the Museum of Old and New Art (Mona) since founder David Walsh established it in 2005.
Moo Brew's managing director Lauren Sheppard said: "Our distinctive bottle has had such an impact on Moo Brew, so it felt important to celebrate it in this new venture, albeit it in an unexpected way. And with the name a cheeky nod to our location, Manky Sally's is not your typical taphouse.
"We're creating the type of bar where we'd want to drink, eat and meet up with friends. It's like nothing else you've ever seen and that's really the point."
With Mona's design team behind the build, more than 3,000 of Moo Brew's amber bottles – each containing a glowing LED – make up an interior wall and false ceiling in a corner of the venue.
Much of Manky Sally's interior décor and fittings have been foraged from some unusual locations as well as Mona's own warehouses, with a focus on the reclaimed and repurposed. Finds include Axminster carpet from a cottage on Maria Island and plumbing fixtures that have been transformed into bespoke lighting.
"Punters will be welcomed through a curtained corridor leading to an installation made from Moo Brew cans, and can get comfortable in an abundance of gathering areas. The front bar oozes retro vibes with its wooden veneer panelling, sheer pinstripe curtaining, tiled bar frontage and vinyl menus and is connected via a mirrored walkway to a cosy back lounge."
Regarding on-site brewing, Moo's head brewer Jack Viney said: "Sally's tiny brewing tanks have given us the freedom and flexibility to conduct lots of creative experiments and we look forward to opening the doors and getting instant feedback from people sitting at the bar".
The bar features 14 taps serving core Moo Brew beers, two seasonal releases, two experimental beers brewed onsite, a guest Tassie beer and a cocktail. There'll also be batched cocktails, Tasmanian spirits and wines from Domaine A, Moorilla and other local wineries.
Dinner will be on offer seven days a week, with lunch available Friday to Sunday, featuring seasonal and shareable snacks prepared by head chef Sam Bray.
Manky Sally's
25 Salamanca Place, Hobart
Open seven days, 11am – 11pm
moobrew.com.au