Surry Hills craft beer institution the Royal Albert Hotel are combining with competition BBQ team Badass Barbeque to help launch the latest seasonal beer for the Australian Brewery – Fire and Brimstone smoked IPA.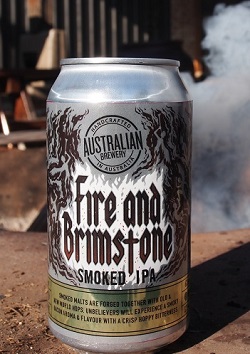 The Australian Brewery will take over the taps at the Royal Albert tonight, Thursday 10 August. As well as the new Fire and Brimstone smoked IPA, the tap takeover will include the breweries two AIBA gold medal beers, the Australian Pale Ale and the All-Star IPA as well as other core range brews.
The Fire and Brimstone smoked IPA launch will be from 5pm at the Royal Albert Hotel Surry Hills located at 140 Commonwealth St, Surry Hills on the 10th of August.
Winners of the inaugural Meatstock Melbourne, Badass Barbeque have worked with head brewer Dan Shaw, to take over the kitchen for the night with their signature award winning ribs and Bad Ass sauce designed to pair with the Australian Brewery beers.
The Fire and Brimstone IPA is a 6% ABV, 50 IBU beer with 55 per cent Manuka and Beechwood smoked malt giving it a smoky bacon flavour and aroma balanced with the bitterness of American hops.
"I can't wait to showcase the combination of flavours from this beer with what the Badass Barbeque guys have been doing. I'm looking forward to coming down and enjoying a great night at one of the best craft beer bars in Australia," said Shaw.
The Brewery will also host the Australian Brewery Kingsford Invitational on 25-26 November where Badass Barbeque will compete with 35 of the best other teams from around the world for $40,000 in cash and prizes.