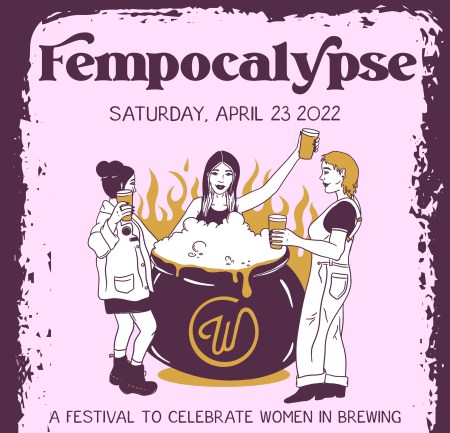 Sydney's Wayward Brewing are hosting their third Fempocalypse on April 23 – a free festival at their Camperdown taproom to celebrate women in the fields of brewing and arts.
Alongside a soon-to-be-announced tap line-up featuring beers all brewed by women, Fempocalyse 2022 will also showcase the Witches Brew red IPA brewed by Wayward brewer Emma Elmslie and her female colleagues while a special collaboration with fellow inner west brewery Philter will be brewed for the event as well.
Wayward said Witches Brew doffs its pointy cap to the women who used to lead the beer industry before a smear campaign accused them of practicing witchcraft. If you travelled to markets in the 1500s, you'd see women wearing tall, pointy hats standing in front of cauldrons. These women weren't witches but brewers and their hats were designed so their customers could find them in a crowded market. They even had cats to keep mice away from the grain.
On the day Wayward's laneway will also host market stalls where you can browse jewellery and art from local female-owned businesses while Chef's Kitchen Food Truck will be slinging burgers, wings and more. An afternoon of music celebrating women in the arts will kick off at 2pm and feature Kath Ebbs (DJ Set), Toffee Riot, Maia Marsh, Melanie April, Josie Bakker and Tyla Jay.
Making this year's festival even more pertinent for Wayward is the fact it arrives in the wake of the startling beer industry statistics presented by the Beer Agents for Change group.
The results of that 2021 Australian Beer Industry Diversity Survey showed almost 40% of the 220 respondents (53% male/47% female) who work in the beer industry, either directly or indirectly, had been abused or harassed at work, with 20% experiencing sexual abuse or harassment and 20% suffering abuse or harassment due to their gender. Of those who had experienced abuse or harassment, 90% were women, while 75% of respondents felt senior leadership roles in the industry weren't representative of the broader community.
In a statement Wayward said: "With 2022 being the women of Wayward's third year of hosting Fempocalypse, these statistics show how important it is to represent femme brewers and artists (and why they are) vitally important for the ever-growing beer and entertainment industries".
WAYWARD BREWING CO FEMPOCALYPSE 2022
1 Gehrig Lane, Camperdown NSW 2050 Saturday 23 April 12pm to late.