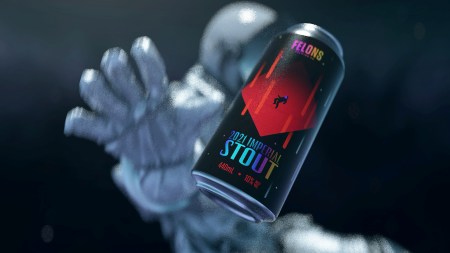 FELONS BREWING 2021 IMPERIAL STOUT (10.0%, 440ML)
Felons' latest limited release lands as one of the first new Imperial Stouts to appear this Winter and with impeccable timing considering the cooler than expected temperatures currently gripping Australia's East Coast.
Following on from the 2019* release that won Silver at that year's Indies and the 2020 version taking out the Champion Strong Beer category at the Royal Queensland Food and Wine Show Beer Awards, their 2021 iteration arrives with much to live up to but leaves having confirmed that its status of being accolade worthy remains.
Pouring deep, dark brown to black with a crema-like tan head that fades, it laces with a motor oil viscosity. The visual effect is like how a short black espresso exhibits in a shot glass, and fittingly good roasted coffee is what first tempts the nose. The brewers' notes mention aromas of Black Forest cake and they're bang on as liquor-infused cherries, dark and milk chocolate and soft notes of sponge are luxuriant. There's a faint whiff of campfire that complements the Wintery mood too and you wonder if among the seven malt varieties used there was a touch of a smoked one among them.
And just how you like things in Winter, the flavours are big, bold and hearty with an overriding warmth from the alcohol acting like a lingering hug for your insides. It makes you take it slowly, savouring its many complexities. The cherry and chocolate notes continue up front (and plum too), but in a deeper, richer vein than in aroma, before bitter chocolate, burnt grain and licorice lead to an earthy, roasty finish. Carbonation and body are balanced to allow for a slick mouthfeel and superb fullness.
Felons said this year's edition of the Imperial Stout, of which just 3,000 individually numbered cans were produced, is a "culmination of head brewer Lincoln Gibbs' determination to make a rich, hedonistic brew that exudes luxury". And we say cheers to him succeeding in that.
*Felons also barrel-aged some of the 2019 Imperial Stout in ex-bourbon barrels which ended up winning the Champion Hybrid Beer at the 2021 Royal Queensland Food and Wine Show Beer Awards.