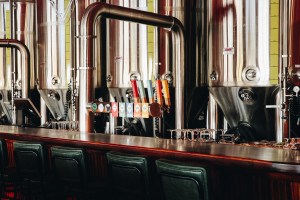 Felons Brewing Co is set to open their doors and brand their roof in a Howard Smith Wharves tradition.
Set under the Story Bridge on the banks of the Brisbane River, the brewery's doors will open to the public on Friday 23 November, serving brewery-fresh beer and food.
Felons Brewing Co is also following in the steps of Wharves tradition by displaying thier name on the roof of the brewery. Its name will be displayed in hand-painted black lettering across the roof of the brewery. Visible from the air, the sign measures 47 metres long adn five metres wide.
"We are proud of being able to bring a brewery to the people of Brisbane right on their riverfront," says  founder Adam Flaskas. "It felt like a fitting nod to the past that we put the brewery name on the roof, as how Howard Smith had originally done when he inhabited the warehouses. This is just another step in bringing Howard Smith Wharves back to their former glory. Over the coming months, you will be able to see more names go onto the remaining two sheds."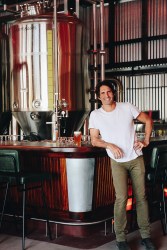 Felons Brewing Co is part of a huge development project at the riverside. Once the Howard Smith Wharves precinct is fully opened, the brewery will work in with curated cultural events and opportunities to spotlight local artisans and musicians.
The brewery was named after the four felons who were the first European settlers to discover the Brisbane River, and the team behind it – who mostly hail from Little Creatures – are keen to tell the Brisbane founding story to the people of Brisbane and beyond.
"We fell in love with the story of the felons who were the first – after local indigenous Australians – to discover Brisbane River," explains general manager Ash Cranston, formerly of Little Creatures. "It seemed to reflect our core values of discovery, freedom and fearlessness, and it made sense to name ourselves after a story linked to the foundation of Brisbane, and the river where our home is.
"We've engaged renowned Australian contemporary painter and installation artist Anthony Lister to help us revitalising an old wooden 13.5 metre trawler boat as an ode to the Four Felons which will be completed by December 1st 2018. We're excited to invite families to throw out a picnic rug on the grass, grab a six pack of Felons Beer, a parcel of traditional fish and chips and kick back in beautiful natural surrounds."
"We're focusing on brewing natural and balanced beers of no fuss, and we won't compromise when it comes to quality and consistency," said head brewer Tom Champion. "We are really conscious of keeping our impact on the planet as low as possible – during my many years in brewing I've learnt the little things count as much as the big initiatives. We strive to brew drinkable, flavoursome beer, which is a bit like us: not to be taken too seriously."