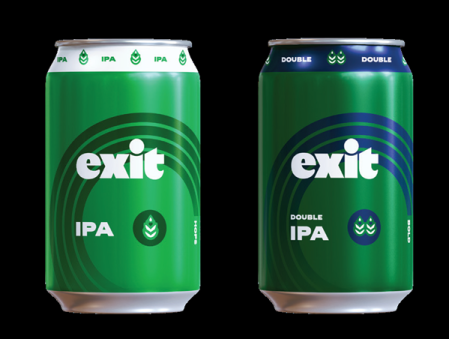 Victoria's Exit Brewing have been busy during the state's lockdown period as they unveil a bold new retro logo and beer can designs today.
People will get their first taste of the rebrand from October 1 when the Dandenong South brewery release their IPA and Double IPA (previously a seasonal, now a member of their core range) in the new look cans. The brewery will then phase in the new designs across its entire range over the coming six months – which will include the addition of a new mid-strength beer before the end of the year. The brewery have also announced a new motto of 'Time for a quick Exit'.
The rebrand was done by Collingwood design studio Small Fortunes, who have also worked with the likes of Pirate Life, Lost Palms and Dainton.
"This year has made us all consider what's important to us and how we want to be represented as a brand," said Grum Knight, Exit's owner.
"We're based in Victoria and so have used this time in extended lockdown to really contemplate who we are as a brand and what we want for the future.
"This has led us down a nostalgic path which is reflected in the design, alongside demonstrating our honest, friendly and reliable approach to beer making."
Founded in 2014, Exit's original designs reflected the I.T background of the founders. However, Exit said they wanted a refreshed look that aligned with the values of the company to create a simpler, more modern and approachable look.
"We wanted to update the design to reflect the changing craft beer market and our evolving Exit customer," Grum said.
"It was about going back to basics with the look. We wanted it to be clean and simple, whilst also standing out on the busy craft beer shelf."
The four lines that create the basis for the new packaging design were inspired by 'exit pathways' and also represent the four key ingredients that make beer. Exit said they will also feature key tasting descriptors alongside every beer in the range to "further emphasise quality and the no b.s approach the brand is renowned for".
"It's a more refined look with a retro feel that we hope will resonate with customers, old and new," Grum said.
"We chose to go down a path that heroes the quality of our beer, as we know this is why we have such a loyal following."
Contact Beer & Brewer by clicking here to share your news and views.