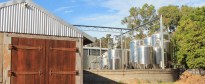 Rockstar brewers Young Henrys continue to expand their empire, opening a new brewery in Western Australia late last year, with another one in the cards for South Australia.
Since November the YH Beer Farm in WA has been knocking out top quality beers and ciders under the guidance of Chloe Lovatt (ex-Matilda Bay) on the brewhouse platform with Ben Joseph (YH Newtown Original). Most recently they have been joined by Charlotte Grant (ex-Little Creatures) for all things brew, keg and can.
"The YH Beer Farm in Metricup, WA, just north of Margaret River is a 20-hectolitre brewery built in an old dairy next to a hay shed turned tasting bar. It is on a little hill overlooking beautiful farmland complete with marron-filled dams and livestock that get fed daily on the spent grain fresh out of the brewery," said Young Henrys Richard Adamson.
"A few of the Young Henrys stable are now getting produced for the good people of WA, namely the Natural Lager, Real Ale and Hop Ale, as well as a bunch of fun, seasonal brews where the brewers get to flex their brewing muscles and chase the muse."
So far the seasonals have included Who's Your Daddy IPA (named after a fatherless pup adopted by Lovatt), How Now Brown Cow Amber Ale (named after… you guessed it, a Bavarian Hefe), This Is How We Brew It brewed by Maximilian Hämmerle an intern brewer from Weihenstephan and a yet to be named lemon, barley sour. A WA Farmhouse Cider is also being produced with local apples crushed on the farm and fermented with the house blend ale yeast.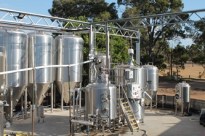 Metricup became the location for the new brewery after one of the original Young Henrys lads moved back there and when the old Vonu Brewery from Fiji came on to the market, the stars aligned.
"It happened quite organically and fits in with our ethos of fresh beer to your immediate market wherever possible," said Adamson.
The brewery has a tasting bar in the old hay shed next to the brewery and while it is yet to open at this stage it is expected to trade 11am-late seven days a week. Check out the Young Henrys Facebook for opening dates.
The YH Beer Farm beers are available at a number of beer venues throughout Perth, Fremantle, Dunsborough, Busselton and Margaret River.
Young Henrys has also lodged plans to renovate a 1000sqm warehouse in Hindmarsh, SA, which is currently awaiting approval.