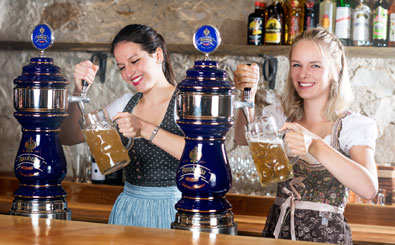 Around 14 Bavarian craft beers are now on offer in South Australia's first 'green' tap system beer house, the Arcobräu Bierhaus.
It is the first time some of the beers have been available outside Germany, made possible through a partnership between Arcobräu Brewery and Adelaide Hills hospitality and tourism operators, the Holmes brothers.
Housed in the renovated blacksmith's barn in the main street of Hahndorf in the Adelaide Hills, the Bierhaus was officially launched by Arcobräu Brewery director Holger Fichtel.
Managing director Andrew Holmes says the decision to open the Bierhaus came about because of the opportunity to partner with Melbourne-based Hoff Hospitality Group and internationally renowned Arcobräu Brewery to bring its beers to South Australia for the first time.
"Arcobräu's dedication to preserving the craft and tradition of Bavarian beer is a perfect match for Hahndorf's historic cultural and culinary traditions, and we're very excited to be part of showcasing these beers to a new audience," Holmes said.
"We're also pleased to be offering a venue and menu that's a little bit different but absolutely in line with the classic Bavarian culinary culture of traditional smallgoods, short cuts and cheeses that perfectly complement the range of beers on offer."
Along with the beer, the Arcobräu Bierhaus is believed to be Australia's first beer house to use a 'green' tap system.
"We're using a system that relies on compressed air and recyclable PET kegs filled with aluminium bladders," said Holmes. "That means there's no need to add food grade gas to get the beer from the keg to the tap at the bar, so the beer is exactly as brewed when it hits the glass – and there's no waste either."
Hahndorf's Arcobräu Bierhaus is just one venture between the partners, with plans well underway for a new venue in Darling Harbour in Sydney.
The Bavarian brews are also already slaking thirsts at Melbourne's Hofbräuhaus and The Hof Bavarian Bier Bar Hall und Café.