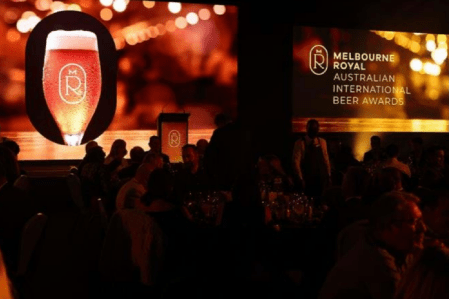 Entries for the 2023 Australian International Beer Awards (AIBA) are open ahead of a May 25 awards ceremony at Melbourne Showgrounds that will mark the 30th anniversary of the competition.
This year's event will see international judges return for the first time since 2019 while every US Brewers Association beer style will have its own class. Organisers Melbourne Royal said this was being implemented "to ensure consistency between the US Brewers Association Beer Style Guidelines and the Entry Booklet… thus removing the need for 'other' classes". Head to the "Sections and Classes" section here for a complete list of Classes.
Melbourne Royal said it has also made a number of refinements and enhancements to the online entry portal.
"These changes have been made to deliver a more seamless, user-friendly experience, ensuring your entry process runs as smoothly as possible."
The organisers stressed the importance of filling out the Brewer's Notes section of the entry booklet correctly which is used to inform competition management and the chief steward to ensure the beer is entered in the correct class and provide judges with essential information for assessing the beer.
"It is imperative that the information supplied on the entry form includes the specific attributes required for the class, is unique to the entry and is clear and concise. Entrants are not to provide information that mentions the brewery or product name or contains a marketing description of the beer."
The Awards are the largest annual beer competition in the world judging both draught and packaged beer, as well as beer packaging design and beer media. In 2022 the competition attracted over 2,600 entries from more than 350 breweries in 20 countries.
This year the AIBA have partnered with freight-forwarding company Scan Global Logistics, who together with domestic cold storage partner Pak Fresh Handling offer a range of international door-to-door freight forwarding services from your country of origin to the Awards in Melbourne. You can find more information about Scan Global Logistics in the "Submitting Your Entries" section of the Entry Booklet.
Key dates
Entries Open: Tuesday 14 February
Entries Close: Friday 17 March
Delivery: Monday 10 – Friday 28 April
Judging: Monday 15 – Thursday 18 May
Awards Presentation: Thursday 25 May