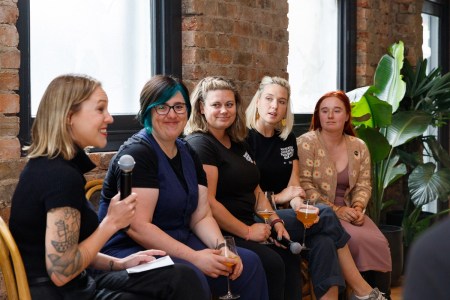 Specialty bottleshop Blackhearts & Sparrows are to once again host a day dedicated to women in beer on International Women's Day (IWD).
Their second Future Brewer event on March 5 will also mark the launch of their follow up collaborative beer release with Brunswick brewery CoConspirators. This year's iteration of THE BREWER will be a rye amber ale and those attending the IWD event at Blackhearts & Sparrows' event space – Perry's: A Refreshment Club on Collingwood's Smith Street – will be among the first to taste it.
Running from 1pm to 6pm and welcoming not just women who work in the industry but anyone who loves to drink beer, Future Brewer will kick off with a sensory beer training session with Stomping Ground's sensory and quality coordinator Lindsay Astarita. There will then be a panel discussion hosted by Blackhearts' beer buyer Cherry Murphy (pictured above on the left) who will share the mic with some inspiring women in the industry – including some new faces, tackling a range of informative topics.
Blackhearts said: "It will be a fantastic opportunity to hear some pearls of wisdom from some of the best in the biz, before rolling right into Sunday afternoon drinks with the chance to chat with like-minded women over a beer or two. There'll be tunes, snacks and a whole host of delicious beers to sip on – including Heaps Normal beers, for those who prefer an alcohol-free option.
"It shouldn't be particularly ground-breaking to put women at the forefront of beer, but the reality is that it is. The launch of this beer aims to create a safe space for female-identifying folks and allies to enjoy a good brew. Striving for diversity in the alcohol industry is a cause close to the hearts of the Blackhearts & Sparrows team."
Event spearhead Cherry added: "Supporting women in the beer industry is something I'm really passionate about and we wanted to create an event where we could celebrate some of the wonderful women in beer and get a dialogue going about how to make the beer industry a great place for women to work".
Tickets, which are available here, include entry to the event and a can of THE BREWER while a portion of the proceeds will be going to a scholarship program, facilitated by Pink Boots Australia, to help some women in beer on their paths to Cicerone Certification.
Future Brewer – Beer Launch & International Women's Day Special Event
Hosted by Blackhearts & Sparrows at Perry's Club
314 Smith Street, Collingwood
Sunday 5 March 1pm to 6pm.