Ellerslie Hop Australia officially reopened on Thursday 7 February with a special event
The event was attended by representatives from Coopers, Lion, CUB and the craft sector, as well as local members from the Wangaratta and guests from across the world, including the UK, USA, Germany and New Zealand.
Following a devastating fire last year that destroyed much of the company's infrastructure, Ellerslie Hop Australia set out to rebuild and managing director Greg Croke has been amazed at the support he has received from the brewing industry.
"It's been quite an emotional rollercoaster and it's been very humbling," he says. "I think the satisfaction that everybody got last week when we were able to stand there and collectively say 'we've done it' I think everybody just took this big sigh of relief. There was a round of applause, not just for the company, but for all the other contractors who took the challenge on and did it. We're ready to rock and roll."
Croke set the target of rebuilding Ellerslie in 330 days, but the team reached it in 309, an achievement he puts down to 'the fact that everyone got on board'.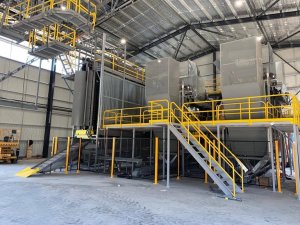 The rebuild cost $10.5 million and now features a multitude of health and safety features, as well as a great deal of computer technology, safety switches and lock outs.
"You name it, we've put it in," says Croke. "There's one or two little things that we've put in that we didn't need to, but we did anyway. We put hospital strength lino in the kiln area. There's a lot of little luxury items we put in that we hope makes life a lot easier. We know that it's going to help us from a production, point of view, from a cleanliness, from a hygiene point of view.
"I can't put into words the appreciation and gratitude that I have for everyone that worked on there and the brewing industry as a whole. We work in a fantastic industry and I don't think I'll ever be able to repay the industry. I mean that. when you're down and people reach out to give you words of support and words of encouragement, it's just amazing."