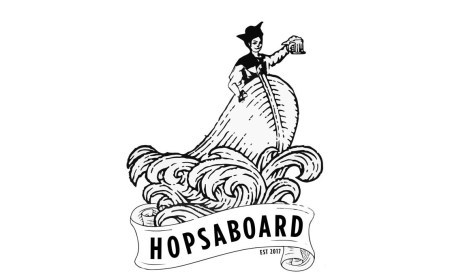 A new competition is giving Australia's homebrewers the chance to have their beer recipes packaged and distributed to venues and bottle shops Australia-wide.
Jake Lindsay and Alvaro Maz, the founders of Hops Aboard launched a crowdfunding campaign to raise $10,000 to fund the production of the winning recipe, and currently sitting at $4,000 they are just shy of halfway to their goal.
Beer & Brewer caught up with Lindsay to chat about the unique concept and how people can get involved.
"We're basically getting individuals, businesses and anyone we can find to pre-purchase six-packs and slabs, which is going towards the crowdfunding goal," Lindsay told Beer & Brewer.
"In the past four weeks we have raised $4k, so we've got another $6k to go. And even if we get to around $6k we will still be able to brew 3,000 litres of beer, which is a shit load."
Both homebrewers themselves, the idea came to Lindsay and Maz because they wanted to give homebrewers the chance to share their beers with more than just their buddies.
"We have launched this almost like a pilot. We had a lot of conversations with bars and bottle shops prior to this and they were saying that the beer scene has really changed over the past six to 12 months and that their customers want to try something new all the time.
"So we thought this was a great way to keep a fresh supply on tap and to also help build the homebrewing community at the same time," said Lindsay.
Details on how homebrewers can submit beers can be found on the Hops Aboard webpage.
Judging will take place on 2 September at The Hops Awards, which will take place in Collingwood. More details are to come, but you can stay updated via the Hops Aboard Facebook page.
The winning beer will be chosen by an all-female panel of esteemed judges, including Beer Diva Kirrily Waldhorn, Becky Centeno from Boatrocker and Sarah (Salty) Otton.
Centeno told Beer & Brewer that she couldn't pass up the opportunity to be on the judging panel, as the competition will provide a great platform for homebrewers.
"Once you get into homebrewing it becomes a huge passion, but when you tell people you're a home brewer they can often think you're just using pots and pans in your kitchen," Centero said.
"I feel like a lot of Australians may not completely understand what a home brewer is and think that they just make crap beer, so HopsAboard is giving them a bit of recognition.
"It's just a really cool idea and I think that it's going to be a great result no matter what for the person who wins and for homebrewing in general."
For details on how to enter or to help with the crowdfunding campaign, head to the Hops Aboard website.