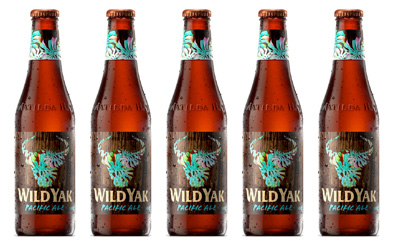 Written by Andy Young, editor of The Shout
Carlton & United Breweries (CUB) has launched the latest beer in its Yak franchise with the release of Wild Yak Pacific Ale.
Brewed using Galaxy, Melba and Cascade hops, Wild Yak was officially launched at GABS Beer | Cider | Food Fest in Melbourne last weekend.
Brewer Scott Vincent said that one of the things that is special about the Yak beers is that they are brewed using a cold, dry hopping technique and that has continued with the Wild Yak Pacific Ale.
"We used Melba, which is a nice little hop, we've used Galaxy and we changed the way the Cascade Brewery works, in terms of its production. We also used a fair bit of wheat and our signature hop, which is Cascade.
"It has come out nice, we're getting quite strong tropical notes, I get some green mango from it and that does often depend on the quality of the hops that you get.
"It's quite dry, it's 4.2 per cent ABV, quite low bitterness and it's very soft. We're really happy with it, it's been quite a lot of fun and this is what we have ended up with."
The use of 'Pacific Ale' is potentially a controversial one with Stone & Wood and Thunder Road currently fighting a Federal Court battle over the use of the trademark. However, Tim Ovadia, CUB's head of craft and Australian premium brands said that the brewer has worked with Stone & Wood to make sure it can use the description.
Ovadia said: "In a consumer world 'Pacific Ale' is a great descriptor to describe the style of beer that we have made, which is a fruity, floral beer with some wheat in it that makes it smooth and light.
"So from the consumer end, when we use the style descriptor 'Pacific Ale' we think of the beer that we have actually made. So technically it is not a beer style yet and obviously we are aware that Stone & Wood have Pacific Ale in the market place and the truth is that they chose a great product descriptor that evokes that right sort of sensorial imagery for this beer.
"Pacific Ale is a trademark that Stone & Wood owns and we have the permission to be able to use that trademark. I can't talk about the specifics of the arrangement that we have with Stone & Wood, because that is confidential.
"But what I can say with complete transparency is that we own the trademark for Pacific Beverages and linked to that we have the rights to use the Pacific Ale descriptor, which is trademarked and Stone & Wood are completely aware of that situation.
"When we made the decision to launch a product in the market, we engaged Stone & Wood and told them that we were going to do that. There is nothing under-handed about this deal at all, no money changed hands. It is a trademark, we respect their trademark, we have the rights to use that trademark and we have exercised those rights."
While the beer was officially launched last weekend, Ovadia said he expects it to be in store from September.
He added: "It's in line with, when we talk about creating balanced, great drinking beers and that's one of the things that has made Yak successful. We think that our drinkers of the Yak franchise are going to love this beer, it's got this tropical aroma to it but it's another good example of tapping into the mainstream beer drinkers.
"It's got something to it, but it's a very drinkable beer."