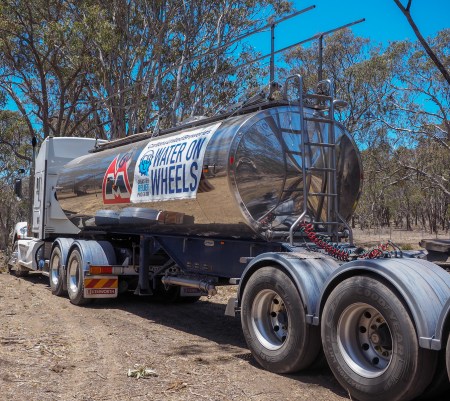 Carlton & United Breweries (CUB) launched its Water on Wheels project on Friday 13 December in a bid to drought-stricken farmers.
About 25,000 litres of water arrived at a farm in Southern Downs – where drought was declared in May 2018 – on the first day, delivered by CUB and national transport company McColl's.
This marked the official start of the pilot program, which will see free non-potable water delivered to farms within 50km of the Newell or Pacific highways in Queensland and New South Wales.
The water can then be used by farmers to water their crops and livestock.
Water on Wheels uses specially treated recycled water left over from the brewing process at CUB's Yatala plant, which brews around 400 million litres of beer a year.
"This is the worst drought we have experienced in history," says Southern Downs mayor Tracy Dobie. "We haven't had rain for a couple of years, and it's heart breaking to see the effect that is having on this region.
"The last real significant rain we had was in March 2017, and many people are doing it tough as a result. We really appreciate what CUB and McColl's are doing to help people in our community."
Stanthorpe is expected to run out of water before the end of 2019, while Warwick is expected to run dry by August 2020 unless there is significant rain.
Water on Wheels delivered 25,000 litres of water to a horse and cattle property at Womina in Warwick, owned by fourth-generation farmer Greg Free and his wife Sue.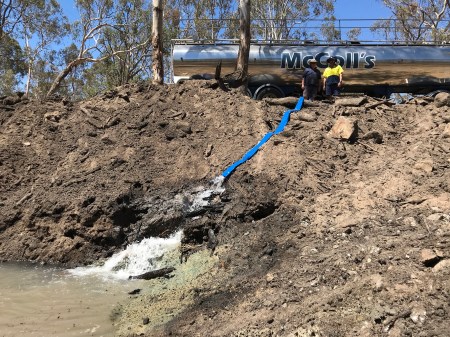 "We're down to about 40 head of cattle now, we've had to destock because of the lack of water," Free said. "Normally we'd run about 120 head of cattle, but with no water it's too hard to keep them going.
"We also usually grow crops including barley, corn, sorghum and oats, but the drought has put a stop to that. It's completely dry, there isn't a blade of grass to be found, so this water will be a big help."
"We helped launch Water on Wheels because regional Australian communities like those in the Southern Downs have always supported us," says Mick McKeown, CUB's Queensland sales director. "We have the water and McColls has the transport network, so it makes perfect sense for us to focus some of our disaster relief efforts on an initiative like this.
"This is a trial run over the next couple of months as we work closely with Granite Belt Drought Assist and other organisations on the ground to identify farms who need this water and who are located within 50km of the Newell or Pacific highways.
"Water on Wheels has been created to deliver recycled water to farmers in need as we continue to support those Australian communities that have always supported us."
Water on Wheels is CUB's latest disaster relief effort focused on supplying water. The Australian-first program saw around 120,000 cans distributed in its first 12 months, including to Townsville after the
devastating floods and 25,000 cans to drought affected communities, including Warwick.
"We have hundreds of drivers travelling throughout Australia to farms every week to pick up milk supplies," says Andrew Thompson, McColl's business development manager, who has provided the tankers to supply the water. "We have seen first-hand how dry many parts of Queensland and New South Wales are and the struggles that families on the land have to battle. McColl's wants to do whatever it can to help these farmers until the rain comes."