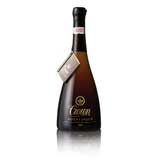 Carlton United Brewery (CUB) has announced that the sixth vintage of luxury lager, Crown Ambassador, is set for release in the second week of November, 2013.
Crafted once a year by a team of brewers, led by Master Brewer Tully Hadley, a portion of this year's vintage was aged for three months in the same Dargaud et Jaegle French oak barrels as last year for three months before being bottled.
In line with the refinements made to Crown Lager this year, Crown Ambassador will for the first time contain 100 per cent Australian malt which Hadley expects will result in a more intense and complex malty character.
The beer is designed to be cellared, and left to mature like a "fine wine", CUB says. The 2013 Crown Ambassador will be available through selected retailers, priced at $99 per 750ml bottle. For more information, head to the Crown Ambassador facebook page.