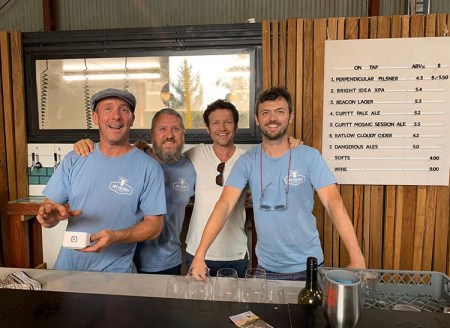 Craft brewing has landed in the tourism hotspot of Jervis Bay, with one brewery already open and another poised to do so in March.
Jervis Bay Brewing Co opened in mid December 2019 while Flamin Galah Brewing Co is expecting to open its doors in March.
Jervis Bay Brewing Co was founded by four friends from the area who have brought their different skillsets to the business. Homebrewing Irishman Oisin Sweeney moved to Jervis Bay nine years ago and is now the head brewer. Englishman Paul Walker came to Jervis Bay two years ago and has a brand and marketing background, while Ben Hutchings is from the area – his family runs another hospitality venue in the town.
Christian Wood also came to Jervis Bay two years ago from Sydney. His background is in a corporate digital product innovation and digital product management.
The thought of founding a brewery came to them at a barbecue around 18 months ago, with the four considering what they wanted to do, why they wanted to do it and what they wanted the business to be.
"Those values were aligned and that set the foundation for the business we wanted to create," Wood tells Beer & Brewer. "We were all looking for something different to get out of the grind of 9-5. A brewery seemed a nice way to do that."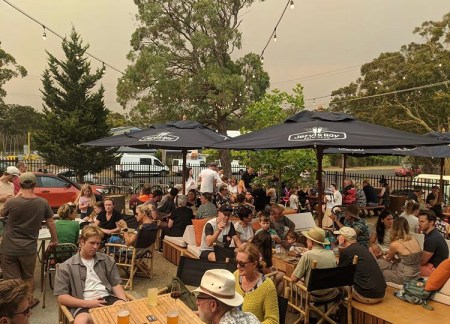 Initially, Jervis Bay Brewing contract brewed to sell their beers wholesale to local bars and clubs, as the four set about learning about the industry, developing the brand and finding a venue.
"We found the place about 12 months ago and then went through the process of establishing that," adds Wood. "The last few months, we've been pretty hands on in business, putting up shelves and installing toilets."
The brewpub currently has five beers on tap – a raspberry wheat beer named Loveboat after the HMAS Jervis Bay, which was the first ship in the Australian navy where men and women served together, a pilsner, a pale ale, a lager and a black lager.
Jervis Bay is a popular tourist spot a few hours south of Sydney. Last year, tourists spent over $3bn there, with the area growing in popularity.
However, recently bushfires have had a considerable affect on that tourism industry. With the bushfires raging over December and January, the opening month was tough for the area and Jervis Bay Brewing Co., which relied on support from the local community.
"The foundation of the brewery is really around 'community first'," says Wood. "We wanted to be local and for the community. So the response from the community was great. We worked hard to get it open to try to get some people in. But with the bushfires, what it meant was we relied on the locals to come out and support us which they've done in droves and kept coming back with their friends."
Jervis Bay Brewing C.o is also working on improving its sustainable practice, as well as hosting fundraisers for philanthropic causes and to support its employees as much as possible.
In March, Jervis Bay Brewing will be joined in the area by Flamin Galah Brewing Co., which was founded by husband and wife team Sam and Claire Houston.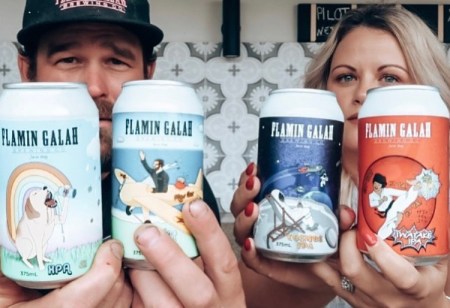 Sam is a builder by trade who had been homebrewing for years before the couple decided, on holiday in Bali, to open a brewery.
At present, the venue and brewhouse is in place – a three vessel system of three 270L pots with an external hot liquor tank. Flamin Galah is still waiting for council approvals, as well as its fermenters, which are being held back in China because of the Coronavirus.
"It's a small team. We've been doing it ourselves," Sam tells Beer & Brewer. "We're about to take it to the next stage and chase down some investors and open up the brewpub, that's the plan. We've just got to get the factory over the line."
The brewery has already got four core beers at the moment, for which they have developed cans and labels. They are Cosmos IPA, The Pilot NEIPA, an XPA and an Iwatake IPA.
"Our plan is to start in March, do the cans and wholesale for a bit while we sort out the fine details of the brewpub," adds Houston.
The wider area is fast becoming a craft beer hub, with Dangerous Ales and Cupitt's 40 minutes' drive down the coast in Ulladulla, and Stoic Brewing the same distance to the north in Gerringong.
All have been affected by the fires, with Jervis Bay Brewing, Dangerous Ales and Cupitt's joining the Resilience brewing initiative.