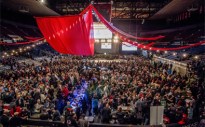 More than 11,500 brewing industry professionals and some 600 exhibitors gathered in Portland at the Craft Brewers Conference (CBC) last week (14-17 April).
The largest industry gathering, CBC brought the industry together in one of the biggest beer cities for discussion and dialogue surrounding America's craft beer culture. Themes included unity, quality and safety.
The guys from Batch Brewing in Sydney's Inner West were among the Australian contingency of brewers who made the trip to the CBC and were impressed with the camaraderie and brewing skill on show.
"The brewing renaissance continues with no signs of letting up in Portland. There are craftsmen there who have been developing their trade for years/decades now. Including sour cultures long before they were trendy and something that is of particular interest to us," said Batch Brewing's Andrew Fineran.
"The camaraderie and sharing of techniques among brewers is inspirational – we got some great insights and advice on how we can elevate Batch Brewing Company's offering and further develop the craft beer scene in Sydney."
Fineran also noticed the amount of support the craft beer industry has in the USA and called for similar support here in Australia.
"It was also amazing to see the level of support that beer fans, the Brewers Association, as well as the U.S. Government give to their local independent craft brewers. Support that's led to growth of the industry, new job creation and innovative techniques and technology. We'd love to see that level of support come in to play down here!" he said.
Three members of the brewing community were recognised for their dedication and service at the 2015 Achievement Awards. The prestigious Russell Schehrer Award for Innovation in Brewing went to Steve Dressler from Sierra Nevada Brewing Co. The Brewers Association Recognition Award was given to Dave & Diane Alexander from Brickskeller, Washington, DC. The F.X. Matt Defense of the Industry Award was won by Brook Bristow from South Carolina Brewers Guild.
The CBC also saw the BA release a full, extensive analysis of 2014 data on US craft brewing growth. For the first time ever, craft brewers reached double-digit (11 per cent) volume share of the marketplace.
The 2016 CBC will be held in Philadelphia, Pennsylvania from 3-6 May, in conjunction with the 2016 World Beer Cup®.