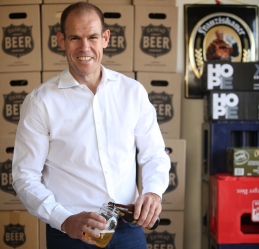 Sydney-based social enterprise Craft Beer Coopery has launched a new craft beer subscription service with the aim of bringing mates together to tackle the growing isolation many experience, which can often lead to mental health issues.
Through Craft Beer Coopery, every month a subscriber receives a cube of nine craft beers. In each are four pairs of different beers to share with a mate and 1 'mystery tinny'. Each cube includes light hearted beer tasting notes, some R U OK? branded drink coasters and a beer snack, such as nuts or beef jerky.
Trevor Lowder, the founder of Craft Beer Coopery, has battled mental health issues himself, which in turn has inspired him to help others.
In late 2007, with previously little knowledge of what depression was, Trevor began experiencing severe anxiety attacks and thoughts of suicide that would later be diagnosed as post-traumatic stress disorder, caused as result of watching his brother die of electrocution a decade earlier.
"I had no idea what was happening," he explains. "I was certainly far too ashamed of what I perceived as weakness to share my feelings with my wife, let alone family or friends. Without help, things rapidly became worse and I arrived at the point where I felt I could no longer go on. Somehow in that final moment, I reached out to my wife. Help came, but so did the stigma.
"While working in the backyard one afternoon, my neighbour Jason stuck his head over the fence and offered up a beer. Over the two hours and two beers that followed I learnt more about Jason's life than I had in the previous five years that we had been neighbours."
One in five Australians have never met their next-door neighbours, a recent survey has found. The loneliness resulting in isolation can sometimes lead to depression, anxiety and even suicide. Difficult to spot and often suffering alone, those experiencing mental health issues can feel calling out for help will leave them stigmatised.
R U OK? CEO Brendan Maher agrees that sharing a drink, albeit responsibly, is a really practical way to stay connected with your mates and loved ones.
"Having a beer or a glass of wine with a friend can often be a platform for a meaningful conversation," he says. "That's why we've provided Craft Beer Coopery with some of our R U OK? drink coasters – to reinforce the 4-Steps to having  conversation with someone who might be struggling with life."