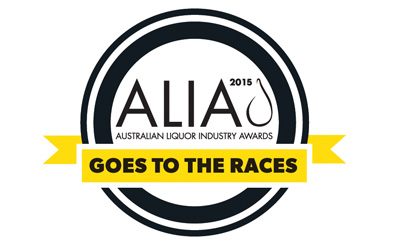 Coopers and Young Henrys have come up trumps at the 2015 Australian Liquor Industry Awards (ALIA) last night (21 Oct).
Young Henrys Real Ale was named Best Draught Product, while Coopers won Liquor Brand of the Year, Best Full Strength Beer and Best Premium Domestic Beer.
More than 600 people turned out for ALIA, which awards both the on and off-premise industries.
It was a big night for Pernod Ricard winning six awards including the major award of Off-Premise Supplier of the Year. Jacob's Creek and Chivas Regal proved key winners for Pernod Ricard, each winning two awards.
Lion was also a big winner on the night taking out four awards including Best Marketed Beer or Cider for XXXX Gold.
The night's other major award winners were Great Northern Super Crisp with New Product of the Year; Liquor Barons with Retail Group of the Year; Jim Murphy's Airport Cellars with Liquor Store of the Year and Vanguard Luxury Brands, which was were named On-Premise Liquor Supplier of the Year.
2015 ALIA WINNERS
Beer and Cider
Full Strength Beer
Winner – Coopers Pale Ale
Highly Commended – Carlton Draught
Mid & Low Strength Beer
Winner – XXXX Gold
HC – Coopers Mild Ale
Low Carbohydrate Beer
Winner – Hahn Super Dry
HC – Carlton Dry
Premium Domestic Beer
Winner – Coopers Sparkling Ale
HC – Boags Premium
International Beer
Winner – Asahi Super Dry
HC – Peroni Nastro Azzurro
Australian Craft Beer
Winner – James Squire 150 Lashes Pale Ale
HC – Stone & Wood Pacific Ale
International Craft Beer
Winner – Sierra Nevada Pale Ale
HC – Samuel Adams Boston Lager
Cider
Winner – Somersby
HC – Monteith's
Best Marketed Beer or Cider
Winner – XXXX Gold
HC – Coopers
Wine                    
Red Wine Popular – $12 or Under
Winner – Jacob's Creek Classic
HC – McGuigan Black Label
Red Wine Premium – $12 – $25
Winner – Pepperjack
HC – Jacob's Creek Reserve
Red Wine Luxury – $25 and Over
Winner – Penfolds Bin Range
HC – Taylors Jaraman
White Wine Popular – $12 and Under
Winner – Jacob's Creek Classic
HC – Houghton Classic
White Wine Premium $12 – $25
Winner – Oyster Bay
HC – Fifth Leg
White Wine Luxury – $25 and Over
Winner – Shaw & Smith
HC – Devil's Lair Estate
Australian and International Sparkling Wine
Winner – Arras
HC – Jansz
Champagne
Winner – G.H. Mumm
HC – Veuve Clicquot
Dessert and Fortified Wine
Winner – De Bortoli Noble One
HC – Brown Brothers
Best Marketed Wine Brand
Winner – Penfolds
HC – Taylors
Spirits, RTD & RTS                           
Dark Spirit
Winner – Chivas Regal 12 Year Old
HC – Jack Daniel's
Light Spirit
Winner – Absolut
HC – Bombay Sapphire & Grey Goose
Luxury Spirit – Over $70
Winner – Chivas Regal 18 Year Old
HC – Four Pillars Gin
Dark RTD/RTS
Winner – Canadian Club
HC – Jack Daniel's
Light RTD/RTS
Winner – Smirnoff Ice Double Black
HC – Gordon's Gin & Tonic
Liqueurs
Winner – Baileys
HC – Cointreau
Best Marketed Spirit
Winner – Canadian Club
HC – Jack Daniel's
On-Premise                      
Best Hotel Renovation
Winner – Hotel Palisade, Sydney, NSW
HC – The Flour Factory, Perth, WA
Best New Bar
Winner – This Must Be The Place, Sydney, NSW
HC – Bad Frankie, Melbourne, VIC
Best Sports Venue
Winner – The Sheaf, Sydney, NSW
HC – Royal Oak Hotel, Double Bay, NSW
Best Gaming Venue
Winner – Eastwood Hotel, Sydney, NSW
HC – Criterion Hotel, Sydney, NSW
Best Hotel Food Menu
Winner – Four in Hand, Sydney, NSW
HC – Statler & Waldorf, Brisbane, QLD
Best Bar Food Menu
Winner – The Rook, Sydney, NSW
HC – SoCal, Neutral Bay, NSW
Bar Manager of the Year
Winner – Cristiano Beretta, The Rook, Sydney, NSW
HC – Jeremy Shipley, Solotel, Sydney, NSW
Bar Team of the Year
Winner – The Lobo Plantation, Sydney, NSW
HC – Black Pearl,  Melbourne, VIC
Best Draught Product
Winner – Young Henrys Real Ale
HC – Stone & Wood Pacific Ale
Best On-Premise Spirit/Liqueur
Winner – Ketel One
HC – Campari & Four Pillars Gin
Best Mixer
Winner – Fever Tree Tonic
HC – CAPI
Best Beer List
Winner – Local Taphouse, Melbourne, VIC
HC – Lord Nelson, Sydney, NSW
Best Wine List
Winner – The Winery, Sydney, NSW
HC – The Butler, Potts Point, NSW
Best Cocktail List
Winner – Eau De Vie, Melbourne, VIC
HC – Black Pearl, Melbourne, VIC
Bartender of the Year
Winner – Paige Aubort, The Lobo Plantation, Sydney, New South Wales
HC – Will Sleeman, Black Pearl, Melbourne, VIC
Publican of the Year
Winner – Fraser Short, Watsons Bay Hotel, Sydney, NSW
HC – Leeroy Petersen, The Village Inn, Sydney, NSW
Bar of the Year
Winner – Black Pearl, Melbourne, VIC
HC – The Barber Shop, Sydney, NSW
Hotel of the Year
Winner – Statler & Waldorf, Brisbane, QLD & Coogee Pavilion, Sydney, NSW
HC – The Oaks Hotel, Neutral Bay, NSW
Hotel Group Operator of the Year
Winner – Solotel, Sydney, NSW
HC – Keystone Group, Sydney, NSW
Bar Group Operator of the Year
Winner – The Swillhouse Group, Sydney, NSW
HC – Applejack Hospitality, Sydney, NSW
Major Awards                  
New Product of the Year
Winner – Great Northern Super Crisp
HC – Four Pillars Navy Strength
Liquor Brand of the Year
Winner – Coopers
HC – Penfolds
Retail Group of the Year
Winner – Liquor Barons
HC – Porter's Liquor
Liquor Store of the Year
Winner – Jim Murphy's Airport Cellars, Canberra, ACT
HC – The Oak Barrel, Sydney, NSW
On-Premise Liquor Supplier of the Year
Winner – Vanguard Luxury Brands
HC – Pernod Ricard
Off-Premise Supplier of the Year
Winner – Pernod Ricard
HC – Treasury Wine Estates