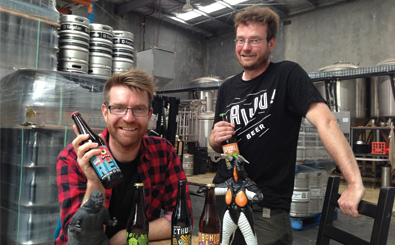 In the latest issue of Beer & Brewer we chat with some of the rising stars of the Australian craft beer industry. One of those is KAIJU! Beer.
KAIJU! Beer
Co-founders: Callum and Nat Reeves
23 High St, Prahran VIC 3181
Who is the team behind KAIJU! Beer?
KAIJU! Beer is brothers Nat and Callum Reeves. Nat is the head brewer, with a background in science, making electronic music and playing all manner of role play games. Cal makes our cider (Golden Axe) and does all the boring admin, marketing etc. He was in the wine industry for a while, and spent some time in the marketing research world, which was pretty awful.
Tell us a bit about KAIJU! Beer.
We were originally called Monster Mash. At the time we found out we had to change the name, we were already referring to the Double IPA creature as a Kaiju, so that was where the name came from. We think it's an appropriate name, given the general massiveness of the beers.
So the Double IPA was the first beer we made. Massively hoppy and malty in style and over 9% alcohol. A lot of folks thought we were pretty crazy coming out with a beer like that first up, but we just thought it was our best beer, and if no one else wanted to drink it, we would! Well, there wasn't much left for us after a couple of days, so that was a good start! We call that beer Aftermath now.
We continued on making the list of Nat's 'greatest hits' home brews with the Hopped Out Red, then Metamorphosis a US-style IPA with a more English grist to make it a bit maltier to balance the huge bitterness.
Where Strides the Behemoth Double India Black Ale was our first GABS beer and did really well. That beer is all about full palate saturation and we were told by respected brewers that it couldn't be made on the system we currently use. But we managed it – the biggest mash ever in the system and the most hops by far (30 grams per litre). We got a pretty meagre yield, but it certainly tasted awesome! Cthulhu on the Moon Black IPA came after that, which is a bit of a house favourite.
Then we decided to make something below 6% alcohol for an interesting challenge. Our first collaboration was with Newstead in Brisbane and we made a big 8% IPA-style but changed it up with some wheat malt to get a bit more of a crisp middle palate. We really enjoyed that, as well as the hop profile. So we thought that was a good place to start with our new beer. We had a label from our amazing designer Mikey Burton that we wanted to use – a golden robot. So we used the Newstead collab and Mikey's awesome label as inspiration for Robohop, a Golden IPA.
Any recent award wins?
Last year was pretty huge for us, we picked up a trophy at the AIBAs for Hopped Out Red, a gold medal for Cthulhu on the Moon Black IPA and a bunch of other medals. Four of our beers were in the top 50 of Hottest 100 as well (Aftermath #46, Metamorphosis #29, Hopped Out Red #19 and Where Strides the Behemoth #12). It's probably unreasonable to ever expect that kind of success again!
What would be in your ideal six-pack?
Drunk in this order:
Exit Scotch Ale (on hand pump, somehow put into a bottle?)
Green Flash Hop Head Red
Drake's Hopocalypse (or Aftermath DIPA)
Geuze Boon
Boatrocker Ramjet
Clown Shoes Blaecorn Unidragon
What is your favourite style to brew?
Double IPAs. Favourite style to drink too so the anticipation of tasting it as fresh as possible is there from brew day to packaging day.
Best advice you've been given?
Don't listen to Hendo.
What's next for KAIJU! Beer?
We're only a few months away from brewing in our own brewery in Dandenong South. This will mean we'll be able to do heaps of experimentation and also make sure our beers are consistently available. We're seriously putting our butts on the line to build something really awesome, so it's an incredibly stressful and also incredibly exciting year!
To read the full article on the rising stars of the Australian craft beer industry, subscribe here.