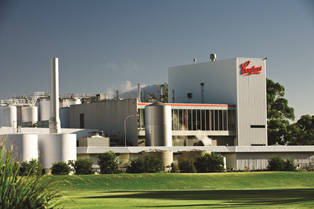 Coopers will spend more than $4.5 million on the brewery in the coming months
Coopers Brewerycontinued to enjoy strong ongoing growth during the 2013-14 financial year with record sales and turnover figures. However after tax profits dipped 9.1 per cent from $30.8 million to $28.0 million as a result of costs associated with the installation of a second bottling line and beer sales shifting from kegs to less profitable packaged beer formats.
Coopers managing director, Dr Tim Cooper, said total bulk or kegged beer sales fell 1.5 per cent during the year, while packaged beer sales were up 10.3 per cent.
"Total beer sales in 2013-14 grew 8.1 per cent to 75.3 million litres, continuing the steady growth Coopers has enjoyed since 1994," he said. "Turnover for the year reached a record $231 million, 6.9 per cent better than the $216 million in 2012-13."
Dr Cooper said sales in South Australia fell 0.8 per cent during the year, but it remained Coopers' largest market accounting for 26.8 per cent of total beer sales. Sales in NSW grew 8.2 per cent in the same period and it now accounts for 26 per cent of Coopers' volume. While Victoria sales were up 15.3 per cent for the year and now represent 17.1 per cent of Coopers' sales.
Sales of the International beers distributed by Coopers – Sapporo, Carlsberg, Kronenbourg 1664, Kronenbourg Blanc and Mythos – rose an impressive 44 per cent in volume and now represent 9.8 per cent of Coopers total beer volume. Coopers brews Sapporo and Carlsberg under licence at Regency Park.
"Overall, Coopers now represents just under 5 per cent of the total Australian beer volume" Dr Cooper said. "However, total Australian sales for 2013-14 fell about 1 per cent the fifth year in a row total volume has fallen. A substantial factor in this decline has been the twice yearly indexation of beer excise, which puts downward pressure on sales.
"It is now reaching the stage that the excise rises are counter-productive with the additional tax raised being offset by a drop in overall sales."
Dr Cooper said Coopers planned to spend more than $4.5 million in the next few months to streamline truck movements around the brewery and install four more fermenters to cope with ongoing growth.
The new fermenters will be installed in early 2015, taking the total number at the brewery to 28.
Dr Cooper said that installing the new fermenters required changes to internal roads within the brewery and this work had already commenced.
The works will also streamline truck movements within the brewery and enable up to 60 semi-trailers to be loaded each day.
It's been a busy few months for Coopers with its flagship beer, Coopers Original Pale Ale, named Australia's Best Full-Strength Beer for the seventh time in eight years at the Australian Liquor Industry Awards (ALIA). Coopers was also awarded Best Marketed Beer or Cider Brand.