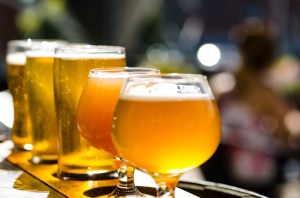 Balter, Philter, BentSpoke and Coopers have all released new beers.
Philter IPA
Philter has released a new IPA for the summer – Philter IPA – the fourth permanent offering from the brewery.
The beer, which has a 5.8% ABV and a bitterness of 55 IBU, has been released as a limited edition at first, but will be available in venues and bottle shops in NSW, VIC, QLD and TAS within a month. It is made with Simcoe, Kohatu, Motueka, Mosaic and Galaxy hops, and feature green and gold colouring within the Philter branding to capture the Australian summer vibe of the beer.
"Everyone was waiting for us to launch an IPA, but we really wanted to make one that was uniquely Philter and fit with our customer," says Philter's head brewer Sam Füss. "That's why we brewed a new-world IPA. We're stoked at how excited everyone is already. Staying true to the Philter's easy-drinking philosophy, a 5.8% ABV makes this a sessionable, warm-weather winner. It delivers a massive hit of refreshing passionfruit, grapefruit and citrus zest aromas, followed by a generous malt body and balanced bitterness. 'It's kind of like we took summer and turned it into a beer."
Balter Captain Sensible
Balter has launched a 3.5% mid-strength beer called Captain Sensible. The can has a buttercup yellow stripe and became available nationwide on 4 September.
"We took this beer as seriously as designated driver duty," says Balter head brewer Scott Hargrave. "If done well, mid-strength beers are a delight to drink, but you need to work hard to bring out a full taste when you have less dancefloor to work with. You want people to be satisfied with just a couple, but also create something you can continue to drink and still be interested in.That's the trick, finding that balance. After 18 months of testing and countless different brews to get there, we think we've finally cracked it.
"We've always said good beer is for everyone. We want people to enjoy themselves no matter what their taste, or mood, or situation at the time. There's nothing worse than feeling like you're missing out when you're doing the right thing. The crowning achievement of this beer would be having people drink it because it tastes great, not necessarily because it's mid-strength. That way you're still part of the show 100% and can have a flavoursome sip without any guilt or FOMO kicking in."
BentSpoke Cluster 8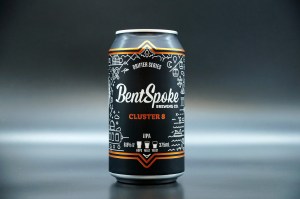 BentSpoke has unveiled a new limited released can called Cluster 8. This Imperial IPA is being tapped around the country in a limited one-keg-per-venue release. In addition, the beer will appear in stores as a very limited packaged release in mid September.
22 dedicated craft beer venues in QLD, NSW, ACT and VIC will serving the beer, which features Galaxy, Citra, Mosaic, Centennial, Simcoe and Amarillo hops and has an 'unmeasurable' IBU bitterness. The beer has an 8.8% ABV.
"This IIPA balanced super resiny, fruity, tropical pine and passionfruite hop aromas with a solid clean palate," says BentSpoke's head brewer and owner Richard Watkins. "Be careful, it can get away from you!"
Coopers Dry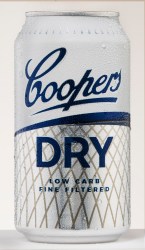 Coopers Brewery has launched low-carb Coopers Dry, spelling the end of Coopers Clear, which will be withdrawn from sale.
The fine filtered lager will be available across Australia in keg, bottle and can formats by the end of the month.
"Dry or low carb beers currently represent more than 15% of the total Australian beer market, but there are relatively few brands from which consumers can choose," says Cam Pearce, Coopers' sales and marketing director. "Coopers Dry will provide consumers with a refreshing alternative, offering low malt sweetness and modest bitterness that can be enjoyed with a wide range of foods all year round. Dry beers are now well established in the market.
"Coopers Dry will offer consumers a premium quality alternative and we expect it will be well received in the market."
As well as using the Magnum hop variety, Coopers has used a highly fermentable Pilsner malt from its own maltings as the foundation. The beer is fermented at a low temperature for an extended period and this allows the specially selected strain of yeast to consume the fermentable sugars, which produces the beer's dry finish.