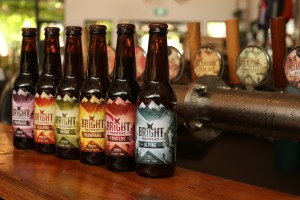 Bright Brewery has announced that its core range of beers has been completely rebranded.
Designed to make each beer easier to identifiable, the rebrand also aims to create a stronger link to the High Country region where they are made, and to celebrate the adventurers who live and play there.
The redesign includes bottle labels, six-pack carriers and cases for all six core range beers, which consists of Alpine XPL, Blowhard Pale Ale, Razor Witbier, Hellfire Amber Ale, Fainters Dubbel and Staircase Porter.
"We've listened to the feedback from our customers, both beer drinkers and beer sellers, and we've made our branding bright, bolder, more colourful and more iconically Bright Brewery," says Tom Mullane-Grant, Bright Brewery's sales and marketing manager.
The new-look Blowhard and Alpine XPL are available now, with rebranded Razor and Hellfire to follow on 1 April, and Fainters and Staircase following on 1 June.
Blowhard Pale Ale (5.0% ABV) is inspired by mountain bikers who tackle Victoria's iconic High Country trails and is named after nearby Mount Blowhard. Alpine XPL (4.5% ABV) is a new Core Range beer, which replaces Bright Lager, and is dedicated to the trail runners of the region.
Razor Witbier (5.0% ABV) features an homage to the road cyclists who frequent the Alpine hills and valleys and is named for Razorback Ridge on Mount Feathertop. Hellfire Amber Ale (5.0% ABV) pays tribute to the skiers who tackle the mountainous terrain in winter, such as Hellfire Gully off Mount Hotha.
Fainters Dubbel (8.5% ABV) is one for the paragliders which are synonymous with Bright and the Fainters, the remote peaks beyond the town; and Staircase Porter (5.7% ABV) recognises the hikers who tread among the mountains, such as Staircase Spur – the steepest track to Victoria's highest peak.