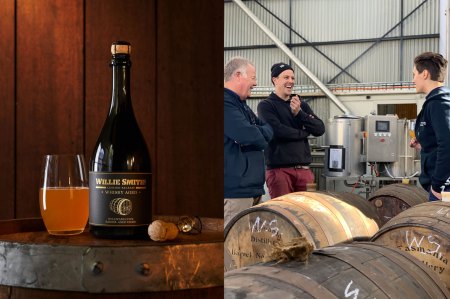 After our Spring magazine's tasting panel went a touch giddy for this we decided to go Behind the Brew to find out a little more about Willie Smith's 2019 Sullivans Cove Whisky Barrel-Aged Cider that has just been released to the public. Beer & Brewer caught up with Willie Smith's head cider maker Thomas New.
In our Spring magazine, out in early September, our judge had this to say about the exquisite collaboration between two of Tasmania's finest drinks makers – Willie Smith's Cider Makers and Sullivans Cove Distillery: "Simply stunning… an absolute delight to drink… incredibly funky with a layered earthy depth to it… every aspect of this drink is well integrated and balanced…"
Head here to subscribe to Beer & Brewer to read the full review, and 95 more like it, in our Spring edition.
Q. Our tasting judge describes this release as "simply stunning", how do you describe it?
Thanks! Those are nice sentiments. I still don't really know how to describe it, other than the obvious whisky meets cider. It's not something I'd come across before. So maybe it's a learning experience for us all!
Q. What can people expect from the release in terms of drinkability, taste, aroma and look?
Everything is intensified – more aromas, more tannins, more flavour. It's pretty dry, and pretty to look at. It's also higher alcohol than our normal ciders thanks to the whisky barrels.
Q. Can you explain the relationship with Sullivan's Cove and how you both brought something to the table with this release?
We're both producers that celebrate Tasmania's unique produce – in this case, barley and apples – and the delish drinks they can become. There was a bit of forethought that went into the style we were trying to achieve and a number of conversations about the best apples to use with their specific barrels. The depth of knowledge around casks and their provenance and flavour profiles that Heather and the team have is impressive. In the end we made a cider from the heirloom cider apple Yarlington Mill known for toffee apple and caramel characters but also tannin. To balance that tannin, we chose to age the cider for six months in Sullivans American oak casks – six ex-Bourbon and two ex-Australian Tawny barrels with low tannin and high vanillin.
Q. Can you explain the brewing process of this particular release as well as the aging process?
As far as the processing of the fruit, post-harvest the apples are left to sweat for a few weeks. This is a traditional technique where the apples naturally dehydrate a little resulting in more intense flavours. They were then milled and pressed quite oxidatively without additions. The juice is then fermented at cool temperatures with a neutral yeast to allow the apple characters speak. After ferment the cider was transferred to the mix of barrels for aging for six months.
Q. What characteristics does the Yarlington Mill apple lend to the overall result?
As the orchards mature all the work put in during the early days is beginning to pay off. We're now in a position where we have more volume and varieties of cider apples than previously, which allows us to experiment and produce a greater range of ciders, with the opportunity to look at both variety and style. We opted for Yarlington Mill for this project as we felt the natural characters of the apple would lend itself to barrel-aging – rich caramel and toffee apple notes with a good amount of tannin and intensity. Cider can be quite delicate compared to spirits or wine so we wanted to use an apple that would be able to marry with the quite strong barrel and whisky characters. Heather also put a lot of thought into the barrels she gave us, with the same idea in mind – trying to find flavours and aromas that would complement each other.
Q. What would be the ideal setting to enjoy this release in and what would be the perfect food match?
Maybe trout fishing up in the lakes, surrounded by a light dusting of snow and a few fish in the creel. A simple sandwich of very bitey cheddar (Pyengana or Bay of Fires Cloth Bound) on crusty white bread. And maybe someone to assist depending on one's constitution (note the Sullivans Cove's ABV of 7.2% and 750ml vessel).
Q. Can people expect to see annual releases of this in the future and what other seasonal releases do you have on the horizon?
Indeed! It's been an exciting year on that front – the down time around COVID created perfect conditions for creativity. There will be two ciders made from the Sturmer Pippin apple – one in can and one Pétillant naturel- style in 750ml bottle – along with a 2020 French blend using Yarlington Mill and our first play with the Bulmers Norman apple. There's also an iced cider to be released. And maybe something cheesy! While there's no firm plans for another whisky barrel-aged as yet, who knows what will happen in these apocalyptic times.
The Sullivans Cove whiskey barrel-aged cider can be purchased at the Willie Smith's shop here or at Willie Smith's Apple Shed and the Sullivans Cove Distillery and at good independent retailers, bars and restaurants Australia-wide.
Thomas New (middle) with Heather Tillott and Patrick Maguire from Sullivans Cove

The 2019 Willie Smith's Sullivans Cove Whisky Barrel-Aged Cider
Contact Beer & Brewer by clicking here to share your news and views.