Barossa Cider Co. took three trophies at the 2019 Australian Cider Awards, winning Best in Show, Best New World Cider and Best Australian Cider or Perry.
The ninth Australian Cider Awards was hosted by Cider Australia at a gala dinner in Melbourne.
This year saw a record number of entries, with 267 Australian and international ciders submitted across 24 classes. They were then judged by a panel of industry professionals including visiting guest judge Tom Oliver from Oliver's Cider & Perry in the UK and Jody Scott from Zeffer Cider in New Zealand.
Of the record 16 gold medals awarded this year, 14 were won by Australian producers in a show of the outstanding skills of our local cider makers.
Within each class, bronze, silver or gold medals were awarded based on points achieved, with the highest score winning best in class and the overall category trophy.
"As a family owned business, we are really proud and humbled to receive these accolades after the past 6 years of hard work," said Oscar Bowen, co-owner and director. "After an idea around the dinner table that lead to my brother, Hugo and me traveling Europe and the UK for some enjoyable market research, we decided on a production style inspired by best in class techniques already being used in the Australian industry combined with our family and our own wine-making experience.
"Our aim when we started this business was to produce the best possible easy drinking cider that would appeal to a broad demographic using only 100% real Australian apples and pears, and we are extremely proud to receive this validation of what we originally set out to achieve."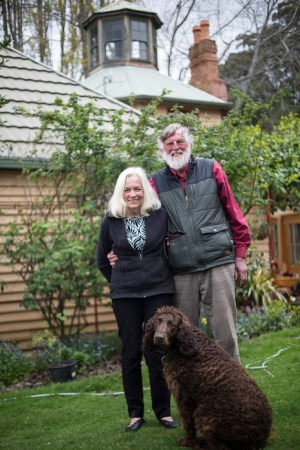 In addition, Cider Australia also awarded its Champion of the Industry Award to Dr Clive Crossley and partner Lynne Uptin OAM of Red Sails Cider in Tasmania.
The pair have been sharing their love of cider with the world for the past 40 years, growing more than 40 varieties of heritage cider apples in their orchard on the D'Entrecasteaux Channel, Middleton.
Sam Reid, president of Cider Australia, said Crossley and Uptin's passion for cider, their commitment to producing unique and high quality ciders and generosity in sharing their knowledge and love of cider with others led to their selection.

"The strength of Clive and Lynne's international networks and friendships has been important in shaping and influencing Australian cider," Reid commented. "They are an inspiration to many cider producers in Australia and overseas and show what is possible if you retain integrity and aim for the best."
The full list of winners from the night is below:
Best in Show: Barossa Cider Co – Squashed Apple Cider
Best New World Cider: Barossa Cider Co – Squashed Apple Cider
Best Traditional Cider: Kangaroo Island Ciders – Colony Cove 2018 Draught Cider
Best Perry: Small Acres Cyder – 2017 Sparkling Perry
Best Intensified / Distilled Cider or Perry: William Smith & Sons – Charles Oates Distilling Apple Blanco
Best Australian Cider or Perry: Barossa Cider Co – Squashed Apple Cider
Best International Cider or Perry: Cester Camillo – Sidro del Bosco, Italy
Most Successful Small Producer: Small Acres Cyder, New South Wales
Most Successful Larger Producer: William Smith & Sons, Tasmania