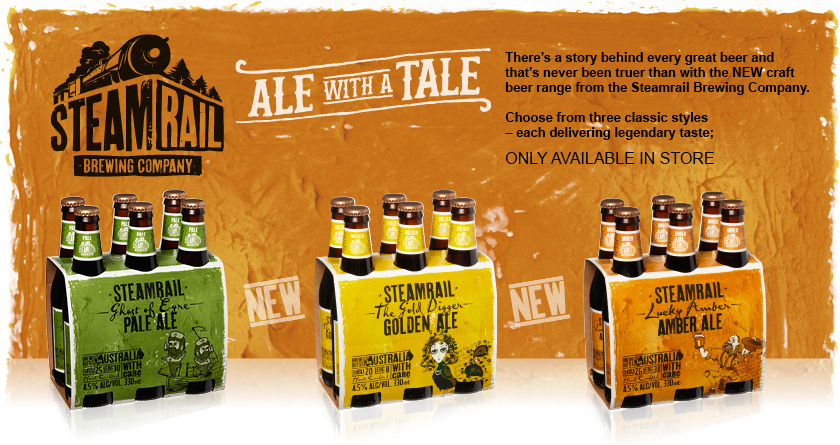 The Coles Supermarket chain has launched its first beer into the 'craft beer' space with the quiet appearance of The Steam Rail Brewing Company.
Dubbed 'Ale with a Tale', the brews have been garnering a lot of attention on social media and according to Coles the opening sales figures have exceeded expectations.
With labeling announcing that the beer is "produced for the Australian Beer Connoisseurs" company, the range includes "Ghost of Eyre" Pale Ale, "The Gold Digger" Golden Ale, and "Lucky Amber" Amber Ale.
Squarely aimed at the mainstream drinker that is looking to move away from macro Lager, the range is on sale in First Choice and Liquorland stores nationally.
However, there is some cynicism from beer fans as to the company's marketing tactics.
Picture from Instagram user @stuartd with the caption: "Haha. Ok. Seen this at a few Liquorlands now. Way to try to drum up sales of your new Coles-owned faux-craft beer."
The launch comes on the tail of Woolworths' re-launch of the iconic Sail & Anchor brand. Both labels make use of Australian historical references and have gained equal praise and derision from different sections of the beer drinking public.

The official tasting notes read as follows:
"With balanced hops and malt, the Ghost of Eyre Pale Ale has a well restrained crisp bitterness. The bitterness is offset by a caramel taste, as well as fruity and floral notes."
"The Gold Digger Golden Ale is a smooth, rich Golden Ale that is honey gold in colour with a refreshing subtle hop taste that is perfectly balanced with delicious fruity aromas."
"Lucky Amber is a full-bodied, powerful Amber Ale with richness and length, featuring a nutty and toffee flavour. Deep amber to copper in colour, this beer provides good mouthfeel and a lingering malt-driven finish."