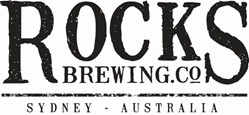 After 5 years of growing our market segment, it is now time to build a brewery and jump into the world of packaged beer. We are looking for a sales person that wants to get in at the ground floor and build a sales team around him.
The brewery will be a one of a kind in Australia with a wide array of beers and bottle size options. The new brewery will be able to produce 2 million plus liters a year which can be expanded very easily over the next couple of years as the demand grows. Opportunities are unlimited.
Rocks Brewing Company is currently on tap around Sydney in 25+ venues and is still growing even with the lack of contract brewery space available.
We are a small family orientated company that is based around a passion for beer and a good work / life attitude.
What we need:
A good knowledge of the Australian craft beer and cider market
On and off sales experience
The person must have experience in selling beer into Retail, Bars, Pubs, Restaurants and clubs.

Retail chain experience is also a big advantage
This person will also help in the development of the packaged sales strategy / marketing / POS and all other aspects of the sales team and help in the keg sales when needed.
The person must be a team player and work closely with all other departments within the company
The candidate must have a superior work ethic, competitive nature and extreme pride in working for a craft beer company
Budget management experience
Have been responsible for volume, distribution and execution of a market strategy
Salary and Package will be discussed as per candidate's experience
For all applications, please email mark@rocksbrewing.com
ALL APPLICATIONS WILL BE KEPT IN THE HIGHTEST OF CONFIENDITALITY