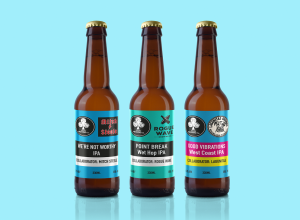 After brewing 27 exclusive beers since beginning in December 2016, The Club Brewing Co team has committed to re-brew three of its most popular beers for the Autumn pack.
Club Brewing Co makes one-off collaborations with local and international breweries, including Lagunitas (US), Fuller's (UK), Baird (Japan), Beer Here (Denmark) and Yeastie Boys (NZ).
Locally, Club Brewing Co has worked with breweries like Mountain Goat, MoonDog and 3Ravens, as well as Pact, Co-Conspirators and Burnley.
An online poll was recently conducted for members to pick their three most popular beers, with IPAs dominating the top of the order.
"Members voted IPA in five out of the top six beers we've brewed," says Chris Thomas, brewing manager at The Club Brewing Co.
The top three collaborative beers were the ones made with Lagunitas, Stone Brewing and Salt Brewery, with a Berliner weisse made with 3 Ravens, a mango and pineapple milkshake IPA made with Co-Conspirators and a Brut IPA made with Wolf of the Willows all narrowly missing out.
"The Club Brewing and Lagunitas collaboration from our winter pack last year came out comfortably in front," says Thomas. "It's a west-coast IPA using half a dozen classic US hops and hint of rye malt."
Behind the Lagunitas beer, things got very tight, but a beer made with Mitch Steele while he was still at Stone came in second place. It features a touch of cara-red malt and a mix of Australian and US hops.
"When we got Mitch on board he was still with Stone, and when he left he wasn't sure if we would still be keen. We were still keen as – brewing with Mitch Steele isn't something you get to do everyday."
Third choice was a wet hop IPA (Point Break) brewed with Salt Brewery (previously Rogue Wave) in Victoria. The beer was inspired by old-school IPAs and featured fresh-picked Chinook flowers from Ryefield Hops.
"We picked the hops with the crew at Ryefield, put them on ice in the esky and drove them straight to Rogue Wave for the brew on the same day," Thomas explains.
In the pipeline for upcoming collaborations are Chur (NZ), Exit (VIC) and Bauhaus Brew Labs (US).
To find out more, click here.