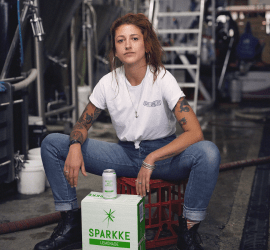 Sparkke Change Beverage Co has opened the revamped Whitmore hotel in Adelaide's CBD with the launch scheduled for International Women's Day, Friday 8 March.
The venue – now called Sparkke at the Whitmore – is the first brewpub for the female-founded and led social enterprise. The venue has a lift for full wheelchair access, and features reclaimed and sustainable materials, boutique and large function rooms. The renovation also revealed secrets up to 150 years old, including a shingle ceiling and a 'pub within a pub' for a venue that has undergone numerous incarnations in its time.
"We discovered an external wall inside the building, from its first life as the Queens Arms Tavern – licensed to Thomas Maslin in 1838, two years after Adelaide was colonised – that had been enveloped in a previous build," explains general manager Alison James. "We have preserved several awesome historic finds, along with the building's striking ironstone facade."
The brewpub features a new two-vessel 800 litre nano brewery, with an output of around 1,000 kegs a year.
"We estimate that we'll consume about 600 of those in the pub and the balance will be sold wholesale to independent bars and restaurants," says Sparkke head brewer Agi Gajic. "Local and national collaboration is a big part of who we are and what we do – our 100 per cent natural beer, wine, cider and hard lemonade each raise funds and awareness for a dedicated cause.
"We can't wait to open the doors and share this new venue with everyone, to enjoy quality products from crafty like-minded producers, and give punters an inclusive, nurturing space. It's an exciting time for the Sparkke family."
Sparkke at the Whitmore's food menu has a sustainable focus and vegetarian base – always with a meaty option – as well as offering cocktails in the uplit downstairs bar beside the Gajic's brewery.