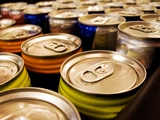 Five years ago, sales of cider barely registered and pre-mixed 'alcopop' drinks were so popular they were earning the wrath of politicians and lawmakers. Now in 2014 the latest Roy Morgan Research reveals cider consumption is set to overtake that of pre-mixed spirits.
Since the excise tax on pre-mixed spirits came into effect in 2008, alcopops have been on the decline while cider has been enjoying a steady rise in popularity.
In the year to March 2010, nearly 2.4 million Australian adults drank pre-mixed spirits in an average four weeks, while only a quarter of them (596,000) drank cider in the same period. Whereas in the year to March 2014, the number of cider drinkers (2,009,000) was just 100,000 short of the number drinking pre-mixed spirits (2,109,000) — and if the growth trends continue, cider drinkers will outnumber those consuming alcopops by the end of 2014.
Roy Morgan Research group account director – consumer products, Angela Smith, said it's good news for cider producers as cider's popularity has skyrocketed in the past five years.
"But cider's gain seems to be alcopops' loss, with the number of people drinking pre-mixed spirits dropping. A major factor in the trend has almost certainly been the higher taxes on pre-mixed drinks, as well as a steadily increasing range of cider brands on the market," said Smith.
Cider's growth is consistent across ages, genders, city dwellers and country folk. While most cider drinkers are aged under 35, the proportional growth in consumption has been similar across all age groups.
Between 2010 and 2014 the proportion of men aged 25-34 who drank cider in an average four-week period rose from 7.4 per cent to 21.4 per cent — an increase of more than 200 per cent. While female cider drinkers aged 35-49 experienced an even greater increase of 250 per cent, rising from 2.8 per cent to 9.9 per cent over the same period.