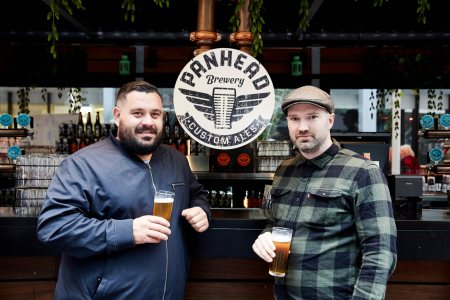 New Zealand's Panhead Custom Ales are relaunching back into the Australian market after a year of absence, and with the support of Lion, will be brewing its popular Quickchange XPA at the Malt Shovel Brewery.
Panhead's Quickchange Xtra Pale Ale – which recently earned gold at the New Zealand Brewers Guild awards – will be the beer of focus in Australia for the brewery, supported by the extra hoppy Supercharger APA, as well as an additional range of specialty beers that will be imported (in bottle) across the Tasman.
Panhead has exported small quantities of beer to Australia over the last few years, but as a result of the Quickchange keg product being  brewed onsite at the Malt Shovel Brewery in Camperdown, Sydney, the beer will be more available more widely around Australia. The brewery was purchased by the New Zealand arm of Lion in May 2016.
While the brewery will always call Upper Hutt (around 40km northeast of Wellington) home, the importance of freshness – especially with hop-driven beers like an XPA – was a major factor in the decision to brew in Australia.
Mike Neilson, Chief Beer Engineer at Panhead, also said the chance to have Panhead's future "supercharged" by a merger with Lion back in 2016 was "too good to pass up".
"Lion's backing will really help Panhead get in the hands of anyone, anywhere in Australia and New Zealand. That's really important to us because we want as many people as possible to experience our beer.
"We're particularly stoked to be working with the boys at Malt Shovel Brewery to brew QUickchange XPA locally. They're techy brewers – just like us – and by brewing this beer locally, our kegs are fresher than ever," said Neilson.
Haydon Morgan, Head Brewer at Malt Shovel, also added how excited he and his team are to work with Panhead.
"This is a unique opportunity to harness the strengths of both breweries and share our brewing knowledge and passion for quality brews," Morgan said.
"It took us a couple of cracks but the boys at Panhead are satisfied we've maintained the integrity of their winning recipe and it is business as usual for us and Panhead Custom Ales."
Panhead launched its very first brew, Supercharger American Pale Ale, in July 2013. Three further beers were added to the core range: Port Road Pilsner, Quickchange Xtra Pale Ale, and Blacktop Oat Stout.
The core range was joined in 2014 by Whitewall, a lighter ale making use of newly developed Australian hops like Galaxy and Ella.
Panhead will now be distributed by Lion's new business 'Malt Shovel' – a dedicated team separate to Lion Beer Australia that focuses on creating and growing a collection of craft brands in the on and off-premise.