After a well-documented explosion in numbers over the past decade, it's fair to say that independent Australian breweries – which you can happily discover from Launceston to Cairns, and BrisVegas to Margaret River – now prevail in a kaleidoscope of shapes, sizes and locations.
One of the most picturesque places for a brewery you could ever imagine, for example, is just outside Pokolbin – around 160km north of Sydney and 60-ish-km west of Newcastle. Surrounded by vines from a 150-plus year-old vineyard is where you'll find former IT specialist now brewer Andrew Drayton's IronBark Hill Brewhouse – which is presently celebrating a milestone five years in operation.
The imposing 100-acre family owned property (six generations' worth) sits at the foot of the Brokenback mountain range, in the lower Hunter Valley wine region, and also sports a clutch of villas, a cellar door, wedding chapel and function centre. The brewhouse itself opened to the public in 2017, after brewing first commenced in 2016.
Inside you'll find 12 taps that pour beers brewed onsite; and what would any self-respecting, modern-day brewhouse be without some kind of non-liquid fare to steady the legs? In IronBark's case, think of classics with a twist – wagyu burgers, fig, walnut and parmesan pizzas, and smoked chipotle pork tacos with charred pineapple salsa and guacamole. Strewth!
While COVID has affected every part of the independent beer industry (and beyond) – breweries that double up as venues, such as IronBark Hill, were hit with a veritable one-two punch.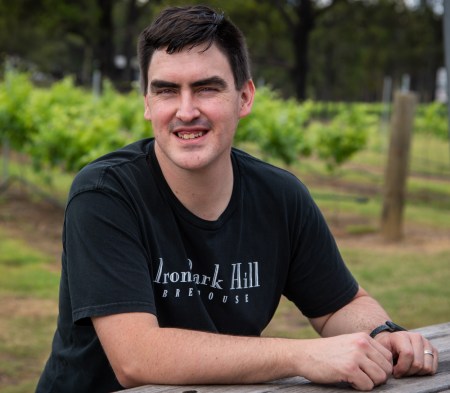 Andrew Drayton said although the past 12 months or so have been "fairly challenging", it's been "probably more of a positive challenging rather than negative".
"Initially, when the whole national lockdown happened, we took things online, like a lot of other breweries. We already had packaged beer in cans at that point, so we just ramped that up too," Andrew said. "We had our venue shut for two months, then once we re-opened, we were hit very quickly with a big uplift in demand. So we had about two or three months of just trying to catch up on getting restocked.
"Fast forward to now and we're not doing too bad. With the borders closed we've seen more people travelling within the state, and after the borders opened (for the moment) we've had a large influx as well. There's a bit of an artificial layer there I guess with the amount of visitors we're getting, but we're certainly not complaining about that."
When you speak to brewers about how they first came to embark on their beer making voyage, for many it can be traced back to a change of industries and careers to pursue something they're truly passionate about. Andrew said his initial "lightbulb moment" came when a friend of his and wife Hayley's – Shawn Sherlock – opened the FogHorn brewpub in Newcastle.
"We spent a bit of time going in there and enjoying the beers that Shawn put out initially, and I think that was probably where I caught the bug so to speak," he said. "The more I looked into it, the more I liked it, and Shawn was always happy to have a chat about things."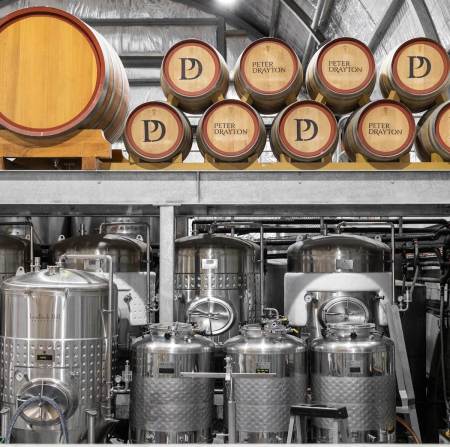 Andrew started talking about it seriously with his family around mid 2015, and spent "a good part of eight or nine months just working out the bits and pieces".
"It (eventually) came around because my dad (award-winning winemaker Peter Drayton), being a winemaker and working in the construction industry at the same time, wanted to expand on the cellar door that he had (on the property).
"He was planning on building a cellar door with a restaurant, and then he thought 'we could probably add something else in there'," Andrew said. "We had discussions about the brewery and being able to boost the offering. The initial plan was just to open a brewpub-style venue – but when we got going, we grew that ambition towards doing a lot more than just having beer available at the venue (by going into wholesale)."
Andrew's path towards making beer himself kicked off at a time when he realised his chosen career in IT was no longer pushing his buttons.
"When I came out of high school I wanted to go into IT, so I started pursuing that and had a few jobs in the industry," he said. "When we started talking about a brewery I was beginning to lose the love for IT and wanted to move on. Once the brewery came along, I threw myself into it.
"At that point, I did have someone to rely on who'd been a homebrewer for about 18 years. He came in with that experience of brewing all grain on a small scale, and we worked on some recipes to scale up. My knowledge really took off over that period of learning with him.
"Then I went to TAFE in Sydney and did the micro-brewing course, which helped me get a bit more of my head around more commercial brewing techniques. I really picked up a lot more of those skills there."
As the variety of beers available in Australia continues its uncharted rise – Beer Cartel boasts more than 1,000 available on its online store at the moment, for example – the trending in popularity between classic beers and more experimental types is a constant to and fro.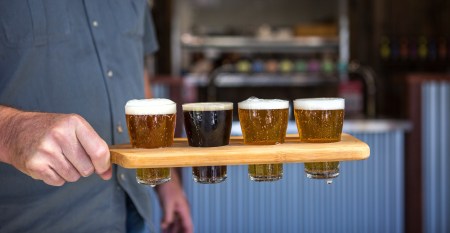 While Andrew said "you can definitely get a bit too carried away with all the different ingredients you want to add to a beer", and, as you move more into a commercial environment, "you may want to lean towards something simpler", he marks his own style as "probably halfway in between".
"I always wanted to be able to offer a broad spectrum of beer styles, not to say that having a particular focus is a bad thing, because there's a lot of breweries that are very good examples of doing that well," he said. "I just didn't want to be pigeon-holed too much by doing (only) one beer or another."
This can clearly be seen in two of the brewery's most recent beers, their first ever GABS beer, the That's A S'moré (think sweet chocolate stout, fresh cookies baked on-site, fire roasted marshmallows, vanilla and cinnamon), and the Renegade XPA – their fifth-birthday celebratory beer.
Billed as offering "balanced aromas and flavours of fresh citrus and juicy fruit salad, supported by a full bodied malt profile", Andrew says the Renegade name partly came from a favourite song of his – Rage Against the Machine's Renegades of Funk.
"But at the same time, it's celebrating that it's a move away for someone in a winemaking family, from winemaking and going into beer. From time to time, I do wonder how I'm a sixth-generation Drayton and not a winemaker!"
It isn't a shock to discover that a brewery such as IronBark Hill, after just ticking over five years in operation, is experiencing a certain degree of growing pains, especially with its current level of demand being slightly unexpected.
"Last year, it just got to a point where we had to grow our capacity a lot bigger," Andrew said. "We've probably brewed about 80,000 litres in the past twelve months, which is about 10-15,000 litres more than we did in the 2019/2020 financial year. So (to increase capacity) we've got a 12-hectolitre (Tiantai) brewkit on its way with some more fermenters replacing the ones that we have, which are only suited to our existing 500 litre Braumeister.
"We can see on the horizon that there's more demand coming – particularly in wholesale. There's opportunities there which we've been pushing back for a while, and now we're starting to have those conversations, because (with added capacity) we'll be able to pursue them."
Andrew makes no bones about the fact the brewhouse has largely operated to satisfy its on-premise drinkers for the most part of its first five years in business. But to encourage the long-term growth of the brewery, he's now gunning to sell his beer further afield, while embracing the wider wholesale craft industry at the same time.
Recent signs show IronBark Hill is already doing just that, with the creation of the GABS beer as well as their debut at this year's AIBAs, where it scored three Bronze Medals (Black Forest Stout, You Can Call Me Ale, Wheatermelon), as well as a Silver for its can designs.
Another brewer, James Horne, previously from nearby Hope Estate, also joined the business in November 2020.
"As far as being a regional brewery, we've got quite a strong local market around Pokolbin," Andrew said. "We have our beer in many of the local bottle shops in the wine district, and there's a couple of venues with our beer on tap. Even if it's just a tap or two, it's still quite helpful.
"At the moment we want to grow our wholesale in Newcastle, which is our larger local centre, and then into Sydney to get our beers in front of more people. We're definitely trying to pick up more of a craft beer audience now too – to try and boost our visibility in that space. We thought our fifth birthday was a great opportunity to start approaching that."
You can find IronBark Hill Brewhouse at 694 Hermitage Rd, Pokolbin NSW 2320.