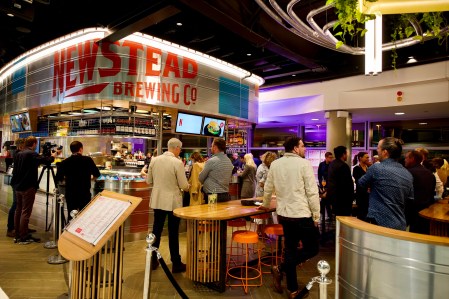 Newstead Brewing have opened their third venue, this time at Brisbane Airport, where patrons can get their hands on an exclusive beer plus the rest of the Queensland brewery's range.
Opened on June 22, and in partnership with Airport Retail Enterprises (ARE), the 300-square-metre taproom boasts 12 taps which showcase the brewery's core range, as well as limited release specials and the newly created and exclusive Tailwind Ale. Located on level 2, near Gate 38 (after security), the venue, known as Newstead Brewing Co, overlooks the airport's runway while the menu includes a range of pub-style classics. As part of a $40 million redevelopment of Brisbane Airport, it was scheduled to open last year but was delayed due to the pandemic.
Newstead opened their original brewpub in the Brisbane suburb of the same name in 2013 before opening another in Milton, just down the Brisbane River, four years later. Their latest venture follows in the footsteps of fellow Australian craft breweries to open bars in airport terminals in recent times – with Stomping Ground the first to do so in February 2020 in Melbourne Airport's Terminal 3 building while Capital Brewing opened one in Canberra's Airport late last year.
Peter Howes, one of Newstead Brewing's family owners and also its chair (pictured below), said the opportunity to welcome and farewell interstate travellers at the airport with the taste of Brisbane was too good to pass up.
"A beer pre or post-flight is popular for many travellers, and we saw this as a great way to introduce more people to Newstead's range that has proudly been brewed right here in Brisbane," Mr Howes said.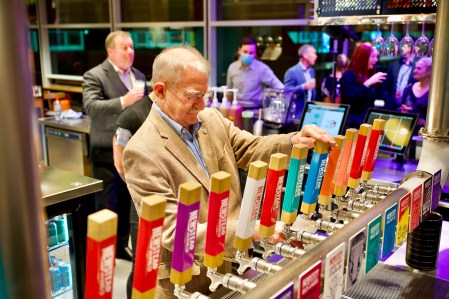 ARE CEO John Chapman said the partnership with Newstead was the perfect way for ARE to strengthen its long-term relationship with Brisbane Airport – where they already operate seven other venues.
"With Newstead Brewing Co's reputation and formidable place within the Brisbane beer culture, this third location is certain to be a memorable pit stop for anyone traveling in the Domestic Terminal," Mr Chapman said.